27 Jan 2022
Bin Sulayem: Ultra-sophisticated technology is the backbone of DP World
(Said Bin Sulayem to a session about: 'Ability of projects to drive growth' in Dubai Int'l Project Management Forum 2022)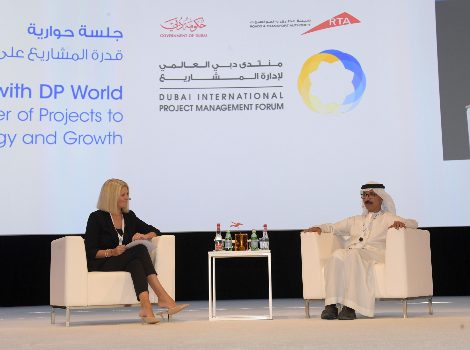 His Excellency Sultan Ahmed bin Sulayem, Group Chairman and Chief Executive Officer of DP World, said on the second day of the 7th Dubai International Project Management Forum 2022, "The Group is keen to keep pace with the latest global trends of technology, innovation, artificial intelligence and smart services. This drive fits with the international profile of DP World as a leading company and a global name amongst top companies operating in this business worldwide."

In reply to a question about the most important projects of DP World Group, Bin Sulayem answered: "Definitely the most important project is Jebel Ali Port. It is the port that had reflected the exceptional vision of the late Sheikh Rashid. It is a unique port as ports or quays are usually built on the water. However, we built this port on land for an important reason that building a breakwater, in the case of building a port on water, equals the cost of building an entire port. We have carried out similar ports to the Jebel Ali port including one at Dakar, Senegal.

"With its free zone, Jebel Ali Port has many advantages, including logistical and industrial features as it uses cutting-edge technologies. Our goal in building Jebel Ali Port was to prove to the world that Dubai offers only unique success stories, which are emulated at the global level. The achievement of this global edifice was not easy and smooth but was marred by challenges and difficulties that we were able to overcome and turn them into opportunities and a wonderful success story," he added.

Reflecting on the importance of technology, innovation and artificial intelligence, Bin Sulayem cited the example of Sony, which no longer manufactures television sets, but rather invents machines that manufacture televisions. "It despatched them to Malaysia, for example, so that televisions could be manufactured according to Sony's international standards. From this example, I wanted to make it clear to you that we at DP World do transfer our experience to several places around the world according to the highest standards of our global group," he explained.

The Chairman and CEO of DP World stressed the importance of knowledge economy. "Companies that have skilled manpower, knowledge and follow up of the trending technology in the world, will lead the management of manufacturing and shipping projects and supply chain in a professional, smooth, efficient and speedy manner. Such attributes are consistent with the developments taking place in the world and changing at an accelerating pace, especially in the aftermath of the Covid-19 pandemic.

"DP World has sophisticated digital technologies to link with banking and financial institutions, which assume the role of financing shipping operations and global supply chain operations. Ultra-sophisticated technology remains the backbone and lifeline of the DP World Group," concluded Bin Sulayem.