Apr 03 2019
Al Tayer reviews work progress of Route 2020 with Alstom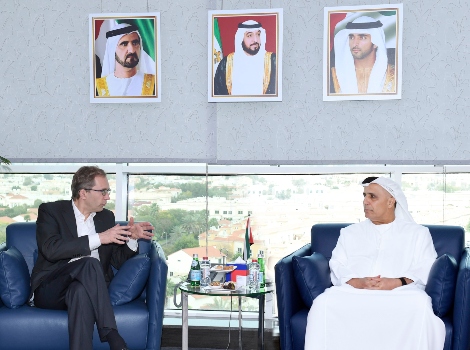 HE Mattar Al Tayer, Director-General and Chairman of the Board of Executive Directors of Roads and Transport Authority (RTA), recently received HE Henri Poupart-Lafarge – Chairman and CEO of Alstom, France.

The meeting discussed work progress on Route 2020 for the extension of Dubai Metro Red Line from Nakheel Harbour and Tower Station to the site of Expo 2020 undertaken by the Alstom-led Expolink Consortium.

Al Tayer was briefed on the progress of the project where the total completion rate had exceeded 70%. He also reviewed the progress on the manufacturing of trains by Alstom, covering the supply of 50 trains; 15 for serving Expo 2020 and 35 for upgrading the level of service of Dubai Metro.

Al Tayer stressed the importance of complying with the approved delivery schedule of the project, as all rail works of Route 2020 Project are expected to be completed by May 2019, and the trial run of the metro on the extended line is to commence in February 2020.