21 Apr 2021
Al Tayer honours 4th cohort of Qiyadi graduates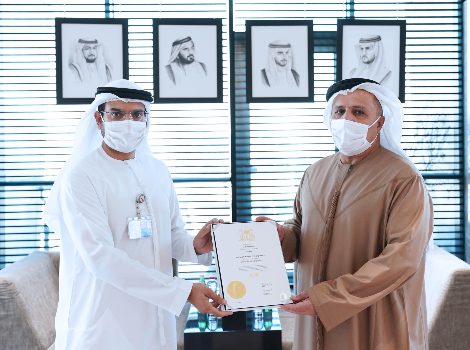 His Excellency Mattar Mohammed Al Tayer, Director-General, Chairman of the Board of Executive Directors of the Roads and Transport Authority (RTA) has honoured the fourth cohort of Qiyadi graduates. The programme enrolled male and female Emirati engineers in 2018 and continued for two years. The programme aims to enrich the knowledge and skills of those enrolled in different areas to support the development drive of the RTA.

Al Tayer expressed his delight with RTA's employees graduating from Qiyadi Programme. "This edition of Qiyadi programme had been designated to young male and female Emirati engineers as part of our aim to scale up their scientific abilities and empower them to make a substantial contribution to RTA's development drive. Such an objective is aligned with our strategy to empower Emiratis, the bedrock of our future, especially engineers whose role is critical to the construction and operation of infrastructure projects."

"RTA is making relentless efforts to be the first career choice for qualified human resources, which requires designing finest training programmes geared to the highest professional standards. The contents of such programmes have to be appealing to young Emirati employees and catered to the development of their scientific and practical skills. Qiyadi programme demonstrates RTA's commitment to carrying out the directives of our leaders to invest in national human resources and refine their talents to be competent enough to steer the development drive of the RTA and the nation," explained Al Tayer.

Sultan Al Akraf, Director of Human Resources and Development, Corporate Administrative Support Services Sector, RTA, explained that the fourth edition of Qiyadi programme focused on qualifying 19 Emirati engineers towards affiliating them successfully to the British Institution of Civil Engineers (ICE).

"The programme consisted of three main disciplines: leadership, health and technical specialists. The Leadership discipline contained a set of high-class programmes to boost the knowledge of inductees and groom them for realising the strategic objectives of RTA," stated Al Akraf.

"The Health discipline involved a year-round programme encompassing health tests for participants by a specialist, along with a comprehensive health programme tailored to the needs of each participant and monthly follow-up visits.

"The Technical discipline included a two-year programme designed to build the knowledge and practical skills of participants in nine core engineering fields. It adopted several scientific techniques and modules such as scientific research, practical training, oversight, guidance, and distant learning in collaboration with the ICE," concluded Al Akraf.