Sep 24 2020
Al Tayer: Fast global changes dictate agile approach to challenges, expectations
(RTA becomes the first public entity to initiate a change of structures to embed agility concept and practice)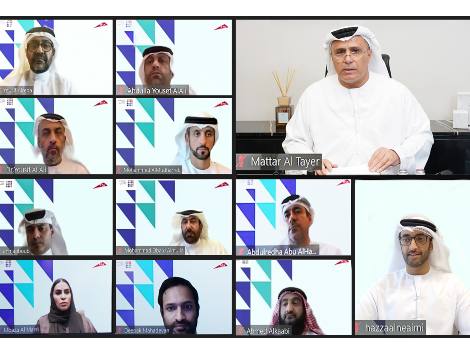 His Excellency Mattar Mohammed Al Tayer, Director-General and Chairman of the Board of Executive Directors of Roads and Transport Authority (RTA), stated that the fast-paced global changes, especially those related to the Covid-19 crisis, had created new situations. He noted that such realities forced governments and organisations worldwide to adopt new administrative approaches to continue business and achieve their targets. He noted the corporate agility approach had emerged as a new model poised to have increasing importance in future.

Al Tayer made these remarks during the Corporate Agility Week's Virtual Forum hosted by RTA in the presence of Dr Hazza Al Nuaimi, Coordinator-General of the Dubai Executive Council's Government Excellence Programme. Attendees also included several CEOs and directors of RTA.

Holding the Corporate Agility Week stems from RTA's keenness to nurture the culture of excellence and leadership and continue with the learning drive. It also reflects RTA's determination to adopt the most efficient administrative practices such that it will be in a better position to adapt to changes in relevant fields and ensure business sustainability.

Fast Adaptation

"From inception, RTA adopted modern management and a resilient operational framework in doing business. Such an approach is reflected in RTA's organisational chart, which separated legislative and executive authorities and enhanced the corporate governance model. RTA also mapped out a strategic plan for roads and transport, set out a model for predicting future trends and developed a methodology for managing risks and opportunities. It also kept pace with changes over the past years and matched the government call for migrating to smart city, achieving smart mobility, developing fast adaptation to challenges, resetting priorities, and maximising the existing resources," said Al Tayer.

"RTA accomplished the Dubai Metro project on time despite the global economic crisis prevailing at that time and went on to deliver highly sophisticated projects such as the Dubai Water Canal that negotiated a wonderful path across busy Dubai streets such as the Sheikh Zayed Road, Al Khail Road, Jumeirah Street and Al Wasl Street.

"RTA managed to adapt quickly to the National Sterilisation Programme and made a smooth shift to a remote-work model, thanks to its preparedness and technological infrastructure. As a result, RTA continued business as usual during the crisis. RTA contracted with Points of Sale and malls and deployed taxis to deliver orders made by individuals during the lockdown period. RTA also continued the delivery of projects according to the approved timelines such as roads leading to Expo 2020, Route 2020 of Dubai Metro and some roads and footbridges projects at residential areas," explained Al Tayer.

"RTA's commitment to the timely delivery of projects at high-quality standards was praised by His Highness Sheikh Mohammed bin Rashid Al Maktoum, Vice-President, Prime Minister of the UAE, Ruler of Dubai, who said after the inauguration of Route 2020: "We say what we do, and do what we say. This is Dubai." RTA is implementing the best global practices in both services and operations. It is also keen on adopting innovative solutions and the delivery of services and projects that meet the current and future needs, and enhance RTA's regional and global leadership," he added.

Corporate Agility
"Adding to our previous achievements, in 2019 we initiated the corporate agility concept in all our business. In the last quarter of last year, we started the implementation of corporate agility practices at the top global standards in collaboration with reputed firms of the industry. Recently, we established a Corporate Agility Transformation Office (CATO), and agility teams will be formed in all sectors and agencies. As such, RTA has become the first government entity in the region to initiate a change of structures embedding agility in concept and practice.

"CATO will oversee the full transformation and seek to improve RTA's corporate maturity through five key pillars namely strategy, structures, processes, people and technology. RTA held 33 training workshops that attracted 700 employees and qualified 24 agility coaches. It launched the corporate agility page in RTA's intranet and embarked on a trial-run of agile contracts and procurement in the field of information technology, which resulted in 60% procedural improvements. It also implemented full scale-up of agile corporate transformation across the Licensing and Public Transport Agencies as well as the Corporate Technology and Administrative Support Sectors," concluded Al Tayer.

Corporate Agility
Dr Al Nuaimi gave a full explanation of Corporate Agility and its relationship with corporate excellence. He also cited the definition of the term in scientific references and international practices as well as the Dubai Government Excellence Programme. He reviewed the Dubai Government excellence, standards and model from a corporate agility perspective and applications which included risk and emergency management plans, digital government, future foresight, innovation management and the strategic plan.

Al Nuaimi reflected on the role of the Dubai Government Excellence Programme in empowering public entities to up their preparedness to cope with crises and disasters, which was evident in the tackling of Covid-19. It demonstrated the ability of government bodies to continue business and services and tackle the crisis quite efficiently. Dr Al Nuaimi concluded by praising RTA's initiative in staging the Corporate Agility Week to promote the knowledge and practice of corporate agility and its immense impact on leveraging the business and the competitiveness of the Dubai Government.

The Corporate Agility Week, which continued for three days, held several discussion panels that covered an array of corporate agility experiments locally and abroad. Moaza Al Marri, Executive Director, Office of RTA's Director-General and Chairman of the Board of Executive Directors, took part in the virtual European Enterprise Agility forum, where she narrated RTA's achievements in this regard.

Deepak Mahadevan - Partner at McKinsey & Company, spoke about the journey to becoming an agile enterprise. Christian Stoyer - Senior Expert at McKinsey & Company, made a presentation about the scientific approach of implementing enterprise agility. Presentations were made during the Week about RTA's best agility practices, and agility coaches put forward proposals for implementing agility in their respective departments.