20 Sep 2022
Al Tayer briefs American delegation on RTA's experience in undertaking roads projects and public transport systems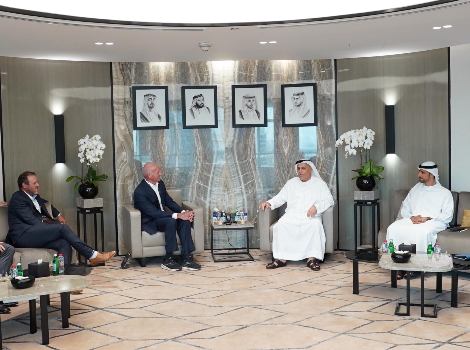 His Excellency Mattar Al Tayer, Director-General, Chairman of the Board of Executive Directors of the Roads and Transport Authority (RTA) has received an American delegation headed by His Excellency Carlos Braceras, Executive Director of Utah Department ofTransportation (UDOT). Attendees included Mr Mike Schultz, Utah House of Representatives and Senator Kirk Cullimore, from Utah.

The meeting discussed cooperation between RTA and American companies specialising in roads and transportation in the State of Utah. The delegation was briefed on RTA's experience in constructing and funding projects.

At the start of the meeting, Al Tayer welcomed the visiting American delegation and recapped RTA's foundation stages along with efforts made in constructing road projects and developing public transport means to make them the first choice of mobility means in the Emirate.

"RTA had undertaken massive and vital public transport projects highlighted by Dubai Metro, the longest driverless metro network in the world extending 89 km, the 11-km Dubai Tram, a public bus fleet of more than 1600 buses in addition to a full range of marine transit modes that include more than 200 mobility means and 10,800 taxis," explained Al Tayer.

"Dubai's public transport means lift about 1.6 million riders every day. The total length of the network has grown from 8715 lane-kilometres in 2006 to 18,475 lane-kilometres in 2021. Likewise, the number of bridges/tunnels increased from 129 to 884 bridges/tunnels during the same period, and the total length of cycling lanes jumped from 9 to 502 kilometres," added Al Tayer.

Smart Technologies

Al Tayer also reflected on the use of smart technologies, apps and artificial intelligence in managing mobility and monitoring traffic movement through the Enterprise Command and Control Centre and Dubai's Intelligent Transportation Centre, and the two rank among the world's biggest and most sophisticated control centres.

The meeting also reviewed RTA's efforts in providing self-driving transport means through conducting technical tests for self-driving transportation in Dubai's climatic environment. It is part of Dubai's strategy for self-driving transport aimed to convert 25% of total transportation trips in Dubai into self-driving trips through various means of transportation by 2030.

Al Tayer reviewed Dubai Government's efforts in achieving sustainable urban development. Dubai launched its urban plan Dubai 2040. The plan revolves around people, improving their wellbeing and ranking Dubai as the best city for living in the world. According to the plan, green and recreational spaces and public parks will increase by 105%, the area of hotel and tourism activities will rise by 134%, the area of economic activities will increase to 168 square kilometres, and the lengths of open beaches will increase by 400%. A network of green paths will be established linking service areas, residential neighbourhoud, and workplaces.

His Excellency Carlos Braceras was impressed with RTA's organization chart and its corporate model, which offered it resilience and efficiency in the quick delivery of infrastructure projects. He hailed the quality and integration of mass transit means, and the use of smart technology in facilitating the movement of people. He expressed his aspiration to enhance cooperation and share experiences in the fields of planning, constructing and operating mobility means as well as the development of the infrastructure of the roads and public transport networks.