Nov 28 2019
Al Tayer attends 'Legacy of Ancestors' during RTA's National Day celebrations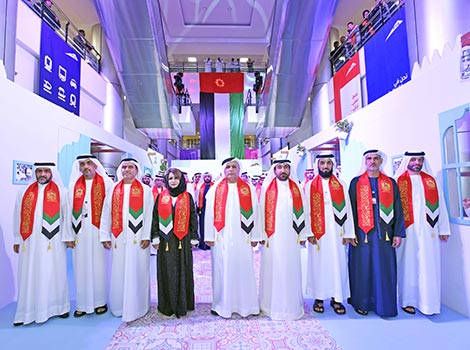 His Excellency Mattar Al Tayer, Director-General and Chairman of the Board of Executive Directors of Roads and Transport Authority (RTA) attended RTA's celebrations of the 48th National Day. This year's edition is themed "Legacy of Ancestors," in veneration of the true heritage of the UAE, and unique features of Emiratis.

Events kick-off with the UAE's National Anthem after which Al Tayer toured the events held at RTA's premises. This year's celebrations echo the identity of traditional Emirati homes with stylish touches replicating this year's theme. Al Tayer then attended an event organized by children of RTA's employees inspired by the good old days of Quranic Teachers 'Mutawaa,' traditional braids for kids and face-painting reflecting the identity of Emirati girls. Al Tayer and several CEOs and directors sat at the guesthouse, a symbol of the Emirati etiquette.

Al Tayer also attended the Golden Occupations sideshow, which included Diving, Falconers and traditional neighbourhood vendors. HE also attended a traditional singing performance and a pottery workshop as well as a Burqa making workshop held by Emirati women, among others.

RTA's officials, employees and staff were later treated to a number of breath-taking activities reflecting our ancestors' legacy and replicating the 'Heritage of Ancestors' including traditional dishes, lute playing, Harbiya Dance bands, folklore games, henna corner, caricature, and many more.

As part of the National Day celebrations, RTA's Traffic & Roads Agency (TRA) staged an awareness event entitled 'For the UAE, We Celebrate in Love & Safety'. Awareness posters were distributed to 230 schools, in addition to 10,000 messages from students to their parents entitled 'To Mam and Dad,' reminding them to abide by traffic safety rules when driving their loved ones to and from schools. TRA's campaign also included theatrical and awareness-raising performances held at Dubai School for Modern Education, where scores of multi-national students delivered speeches, epitomizing the value of tolerance.