16 Oct 2019
Al Tayer launches Second Edition of Dubai World Challenge for Self-Driving Transport
(The new edition encompasses 'Self-driving logistics services')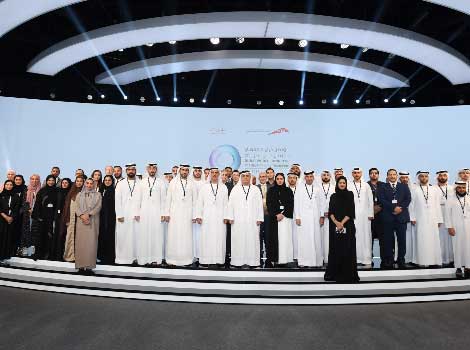 HE Mattar Al Tayer, Director-General and Chairman of the Board of Executive Directors of Roads and Transport Authority (RTA) has launched the second edition of the Dubai World Challenge for Self-Driving Transport under the theme: 'Self-driving Logistics Services,' covering ground transport, drones, and others. The idea is to broaden the scope and applications for potential companies that will take part in the challenge. RTA will start receiving submissions as of March 2020, and winners will be announced in October 2021.

An announcement to this effect was made at the concluding ceremony of the Dubai World Congress and Challenge for Self-Driving Transport 2019 in the presence of key officials of and representatives of participating companies.

Success

Al Tayer was extremely delighted with the huge success of the inaugural edition of the congress in terms of the attendees and participants. "More than 700 technology leaders and innovators were present and about 3000 visitors toured the accompanying exhibition. The event was also marked by rich discussions and ideas spotlighting the future of self-driving transport technologies, improving the technological infrastructure, and developing legislation to govern self-driving transport," he said.

Al Tayer was thrilled with the participation of the world's leading firms in the Dubai World Challenge for Self-Driving Transport. "RTA received about 65 submissions from leading firms, start-ups as well as local and international universities. 15 participants made their way to the finals and seven were announced as winners of prizes totaling US$5.1 million (about AED19 million)," he explained.

Logistics

"Dedicating the second edition of the Dubai World Challenge for Self-Driving Transport to self-driving logistics services stem from RTA's endeavours to support the logistical sector in Dubai. Studies indicate that there are about 6000 shipping companies in Dubai and more than 64 thousand trucks of various loads; which generate about 306 thousand trips per day, thus accounting for about 13% of total daily mobility trips in Dubai," noted Al Tayer.

"Commodity dispatch during the first and last-mile challenge in the city is amongst the top services with immense impact on the economy as a whole.
Therefore, it is anticipated that new operation models or innovative vehicles will be developed for delivering goods in the first and last-mile in the near future.

RTA is keen to broaden the scope of autonomous logistical services to cover several other elements such as ground transport and drones to unlock further potentials for leading companies participating in various categories of the challenge.

"Dubai Word Challenge for Self-Driving Transport is a key component in supporting RTA's efforts towards realizing Dubai Smart Autonomous Strategy launched by HH Sheikh Mohammed bin Rashid Al Maktoum, Vice-President and Prime Minister of the UAE and Ruler of Dubai, to transform 25% of mobility journeys in Dubai into smart and self-driving modes by 2030," concluded Al Tayer.

40 Workshops

Ahmed Hashim Bahrozyan, CEO of Public Transport Agency and Chairman of Smart and Sustainable Vehicles Committee, RTA, said, "The two-day congress held 40 workshops and seminars in which 80 global speakers delivered speeches about four key topics: legislation and laws, connected vehicles and infrastructure, public acceptance of autonomous vehicles and e-security.

Discussion panels and presentations contributed to innovative ideas and solutions to a variety of challenges such as the implementation of self-driving transport technologies. Experts overwhelmingly agreed to the importance of developing flexible legislation to match the fast-pace technology developments and develop standards ensuring a fully safe environment.

The congress stressed the importance of the communication process between vehicles and light signals, for instance, to step up the security level. Cities have an important role to play to mitigate the risks of crossing interchanges by such type of vehicles.

"Global studies revealed that 60% of the world's population have the aptitude to use self-driving vehicles. The challenge lies in the lack of sufficient channels explaining the functionality of such technologies. As regards to e-security, participants unanimously agreed to the importance of developing an all-inclusive structure to protect self-driving transit means against the risks of cyber-attacks through consolidated control centres for data protection.

"Participants noted the technology is fast-moving and cities cannot host such sorts of technologies without teaming with R&D centres and some countries have already embarked on such partnerships. The introduction of such technologies is not too far away (about 3 to 5 years), and concerted efforts are needed to cope up with various challenges. Self-driving transport will bring about better lifestyles for community members, offer free mobility to those unable to drive like children and the elderly, save time and effort, and improve road traffic safety.

Sponsors

At the end of the ceremony, Al Tayer felicitated the sponsors and supporters of the congress and the challenge led by strategic partners: Dubai Silicon Oasis Authority and the technological partner Jaguar. Honourees included the gold sponsors Al Futtaim Group, Parsons, and Al Naboodah. Al Tayer also honoured the silver sponsors: Dubai Taxi Corporation, Al Zarooni International Equipment, United Automotive & Heavy Equipment LLC, Wipro Information Technology, National Taxi, and Premium Technology Auto Parts (OWS).