Aug 10 2014
Parking permits service for seniors and disabled via smart phones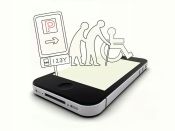 Parking permits service for seniors, disabled via smart phones
The Roads and Transport Authority (RTA) has launched a service for issuing and renewing parking permits for the elderly and the disabled, and renewing permits for the disabled through smart phones using RTA DUBAI App. The move is part of RTA's incessant efforts towards harnessing the technology for serving the community.
 
The service procedures start by downloading the app from the RTA DUBAI on the smart phone of the customer, opening the homepage for selecting Motorists in the Menu, followed by opening the list of three options for parking permits:
 
1- applying for a parking permit for the elderly
2- applying for renewing or issuing a replacement of a lost /damaged parking permit for the elderly
3- applying for renewing a parking permit for the disabled (permanent permit).
 
Once the customer enters his or her details in the system, an electronic message is delivered to the Department communicating the application. The customer is then contacted in order to issue him or her with the card through a customers service center of the RTA nearest to his or her home.
 
It is noteworthy that, the elderly and disabled categories feature prominently in the attention and consideration of Dubai's leadership and thus easing the process for such smart services offered to these two society segments came high on RTA's Agenda.