Dec 17 2017
Special promotions aboard marine transit modes to mark New Year's celebrations 2018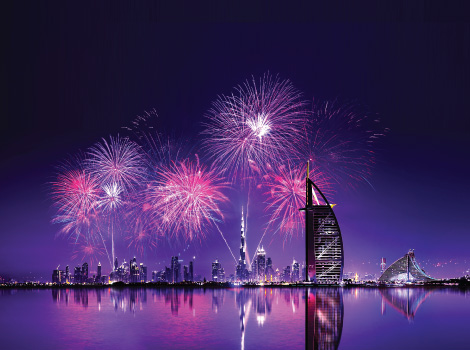 The Public Transport Agency at the Roads and Transport Authority (RTA) is gearing up for the launch of special offers and a host of excellent marine transit services aboard the Water Bus, Dubai Ferry and Abra on the New Year's Eve (Sunday, Dec. 31. 2017). The step is part of RTA's keenness to partner with community members of various nationalities as well as visitors and tourists descending on Dubai from all corners of the globe in celebration of this annual extravaganza.

Mansour Rahma Al Falasi, Director of Marine Transport at the Public Transport Agency, said: "This service is provided in the context of RTA's ongoing engagement with customers. The RTA is stepping up efforts to offer a new marine transit experience availing riders a superb opportunity to live the thrilling moments of festivities at Burj Khalifa, Burj Al Arab, the Atlantis and Dubai Water Canal, through sea cruises aboard marine transit modes. The experience is bound to leave fond memories for residents, visitors and tourists.

"Individuals interested in availing this service can communicate via RTA's dial-free number (8009090) or mobile phone number 050-7932662 to learn more about the Water Bus, Dubai Ferry and abra journeys. Dubai Ferry trips will start from 09:00 pm on New Year's Eve and continue up to 01:30 am (past midnight) while the Water Bus and abra trips will start at 10:30 pm and end at 01:30 am (past midnight). The Water Bus starts service from the Terrace &, Promenade Station and Marina Mall (Dubai Marina). The fare is AED 125 while children under two years can go for free," he continued.

"Dubai Ferry trips will start from Marina Mall Station (Dubai Marina), Ghubaiba Station, Dubai Festival City Station (Dubai Creek) and Sheikh Zayed Road Station (Dubai Water Canal). Dubai Ferry fare is AED 300 for silver class and AED 450 for gold, with 50% discount for children aged between 2 and 10 years, and free for infants aged less than two years. Abra trips start from Dubai Festival City, Jaddaf Station and Ghubaiba Station at a fare of AED 125 per person, and free of charge for infants less than two years," explained Al Falasi.

"The RTA would wish to avail this opportunity to share the joyful moments with celebrators of the jubilant festivities marking the New Year. Dubai would be turned out in a festive gear free from inland traffic congestions & crowds in places like the iconic Burj Khalifa; the tallest building on the planet and Dubai Water Canal. The service reflects RTA's excellent marine transit services for the day, and its attention to raising the satisfaction of customers and riders of these modes.

"The Dubai Ferry, Water Bus, and abras have special appeal to Dubai residents, visitors and tourists, thanks to the picturesque beaches of the city. Dubai boasts of an array of fabulous tourist icons such as the World Islands, Nakheel islands and Dubai Water Canal among other tourist destinations and deluxe hotels. The launch of this quality service will add a further majesty to the marine transit modes during the event," concluded the Director of the Marine Transport at the Public Transport Agency," said Al Falasi in a concluding statement