Nov 05 2017
Offering jobs to female graduate citizens among people of determination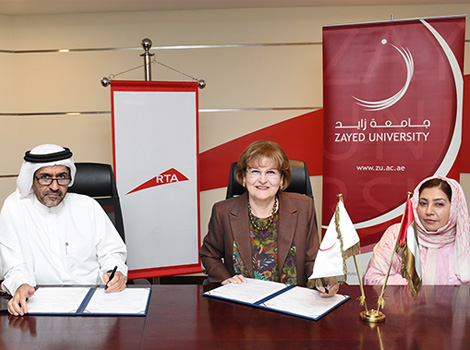 The Roads and Transport Authority (RTA) has signed a Memorandum of Understanding (MoU) with Zayed University in Dubai, under which the RTA will sponsor the university's Emirati students from people of determination in their relevant specializations, besides offering scholarship and jobs for graduates in relevant specialties. The step echoes RTA's strategy aimed to support this segment in line with 'My community… A City for Everyone' initiative launched by our government.

At the RTA Headquarter, Yousef Al Rida, CEO of RTA's Corporate Administrative Support Services Sector signed the MoU on for RTA and for Zayed University signed Dr. Marilyn Roberts, Vice Chancellor of the University, in the presence of several officials from both sides.

"The MoU requires the RTA to sponsor Emirati female students among people of determination at Zayed University, and provide them with all scholarship benefits along with employment opportunities for female graduates according to their specializations. The step is part of our aim for integrating this segment in the society rendering them key players in the development drive, and RTA's advancement," said Yousef Al Rida.

"The MoU, added Al Rida, depicts RTA's commitment to support and assist people of determination in cooperation with various governmental and non-governmental bodies in Dubai emirate. The RTA is keen to keep pace with directives of 'Dubai is a People of Determination-friendly City by 2020' Initiative launched by our government. In this regard, the RTA is working on designing creative, innovative and diverse services tailored to the needs of this valuable segment so that they become a crucial part of the Emirati society at present and future. We view this as national duty in the first place."

Dr. Marilyn lauded the role of the RTA and its assiduous efforts to forge such agreements supporting students from people of determination segment at the university by providing them scholarships and job opportunities upon graduation.

"This MoU will contribute to supporting those female students, and satisfying their university needs so that they complete their studies, and offering them job opportunities at one of the key government institutions in Dubai." She underlined the positive impacts of the initiative which enables female students amongst people of determination to interact with their teachers and colleagues, engage in the student activities held at university campus and beyond, and enhance their involvement in the job market of the UAE and the society as a whole, which fits well with the UAE's aspirations for their future tasks."

"Zayed University looks forward to forging similar partnerships with local institutions to create more supportive opportunities aimed at honing the skills of students from people of determination segment who constitute an integral part of Zayed University community. This would empower them to join the job market and achieve excellence in all fields," concluded Dr. Marilyn