Oct 27 2017
Launching two new bus routes on Nov 1st to serve Global Village visitors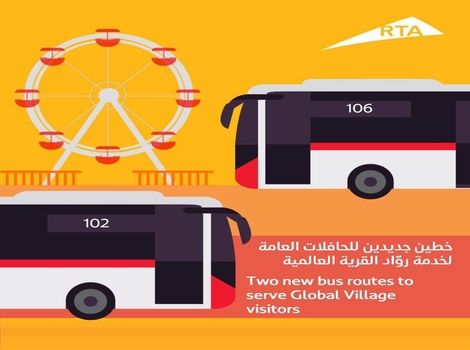 RTA's Public Transport Agency is set to launch two new bus routes (Routes 102, 106) on November 1st, 2017. The step would also boost the happiness of visitors of the Global Village in Dubai, and at the same time cope with the growing demand for this service.
"Due to the growing demand for bus service, two new bus routes would be launched on the first of this November," said Mohammed Abu Baker Al Hashimi, Director of Planning and Business Development. "The two routes are Route 102 from Rashidiya Metro Station heading directly to the Global Village, and Route (106) from Mall of the Emirates Station heading to the Global Village," he said.
"To improve the route's service around the Global Village, RTA had re-operated Route 103 and Route 104. Route 103 starts from the Union metro station and heads to the Global Village via Al Rabat Street. Route 104 starts from Al Ghubaiba Station and heads to the Global Village via Al Jafiliya metro station," commented Al Hashimi.
"The launch of the two new routes (102) and (106) on November 1st this year to serve visitors of the Global Village is a quick response to the needs of public transport riders. It fits well with the upswing witnessed by the UAE, especially Dubai, in various fields.
"RTA is keen on broadening and upgrading the public transport network to cope with the urbanisation and demographic growth in Dubai. Opening more public bus routes is part of the strategic initiatives and key pillars of raising the proportion of journeys made by public transit means. Attracting more community members to use public transport means in their daily travels will have positive impacts on the traffic movement and the environmental cleanliness," he further added.