Oct 23 2017
Highlighting green economy achievements in WETEX 2017 starred by Tesla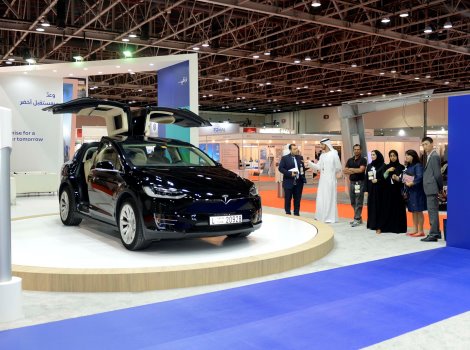 The Roads & Transport Authority (RTA) will review its green economy achievements as part of its participation in the 19th Water, Energy, Technology, and Environment Exhibition (WETEX) 2017; which will kick off today at the Dubai World Trade Center and continues up to 25 October 2017. Tesla electric limo will highlight RTA's participation in this year's WETEX

Nasser Hamad Bu Shehab, CEO of RTA's Strategy and Corporate Governance Sector cum Chairman of RTA's Energy & Green Economy Committee, said: "This annual global showpiece offers a platform for the RTA to showcase its initiatives and strategic plans to nurture a green & sustainable environment. To promote this drive, the RTA always seeks to improve water and energy efficiency in its premises, transit modes and service delivery outlets. In this context, Tesla electric limo will highlight RTA's participation in this year's WETEX. Tesla electric limo is equipped with several self-driving technology parts. RTA has recently inaugurated 50 Tesla electric limos within a deal of 200 limos of the same type, which would be operated on batches up to the year 2019. "
"Over the past four years, the RTA has completed 71 projects and initiatives relating to energy & green economy in a bid to further enhance the green economy concept as per the initiative launched by our government in 2012 under the theme 'Green Economy for Sustainable Development'. The projects also echo the UAE's Vision 2021, Dubai Vision 2021, Dubai Strategy for Reduction of Carbon Emissions 2020, Dubai Strategy for Demand Management 2030, and Dubai Strategy for Clean Energy 2050. It also other policies advocated by the Dubai Government aimed at rendering Dubai an example to be emulated worldwide in energy efficiency and carbon reduction," noted Bu Shehab.

"The RTA has taken the lead in establishing the Green Economy Section in 2015 under direct supervisions of Safety, Risk, Regulation and Planning Department, as a reference for documenting all green projects and initiatives across the RTA. The RTA has also taken the initiative and become the first public entity to prepare and adopt an integrated framework for a green economy in all operations. The RTA is keen on adopting the world's best standards of energy efficiency and smart technology in projects and infrastructure such as the Dubai metro; the world's longest driverless metro line powered by clean electric energy, and the Dubai Tram; the first tramway project outside Europe powered by ground-based electric supply system. The RTA also strives to achieve the targets of Dubai's Smart Autonomous Driving Strategy, which aims to convert 25% of all journeys in Dubai into self-driving journeys by 2030. To this effect, the RTA has recently signed an agreement with Tesla to beef up RTA's taxis fleet with 200 Tesla electric vehicles by 2019," elaborated Bu Shehab.

"The RTA continued Bu Shehab, adopts top international standards of green buildings, plans to obtain LEED certification in Route 2020 Project and seeks to replace traditional street lighting by LED lights by 2030. The RTA has added low-carbon emission buses to its fleet and completed the first electric bus pilot project in 2015, the first of its kind in the region. The civic body has also completed the CNG-powered bus pilot project as well as vehicles' carbon footprint measurement project in Dubai. The RTA has tentatively operated the eco-friendly hybrid taxis in 2008, followed by a plan to convert 50% of Dubai taxi fleet into hybrid vehicles by 2021."

Regarding marine transport, Bu Shehab cited RTA's experience of electric abras, known as Blue Abras, as well as the gas-powered Abras, adding that the RTA is currently experimenting a solar-powered Abra in cooperation with one of the world's leading companies since smart services play a vital role in preserving the environment.

It is noteworthy that this annual event, which is organised by the Supreme Council of Energy together with DEWA, attracts huge participation from international organisations, institutions, governmental and semi-governmental bodies in addition to major international companies specialised in this field.