Dec 14 2017
Dubai Taxi launches Health & Safety Awareness Week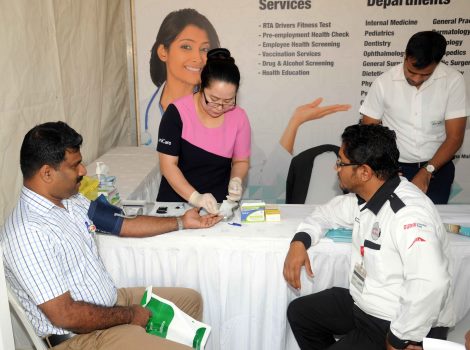 The Roads and Transports Authority (RTA) has launched the 'Health & Safety Week' events at the Dubai Taxi Corporation (DTC) at Al Muhaisina under the theme 'Health & Safety is a Workstyle' as part of its annual plans of raising the health & safety of employers and drivers. The event also echoes DTC's quest for promoting the health and physical education as a means of improving the business performance of all employees of the DTC.

Attendees of the event included Mohammed Obaid Al Mulla, RTA Board Member; Dr Yousif Al Ali, CEO of Dubai Taxi Corporation, and several officials and partners of the DTC.

''We in the Dubai Taxi Corporation are keen to apply the highest global standards of quality, health, safety and environment as part of a strategy to promote a safe, healthy and happy working environment for all employers and drivers who are the backbone of the DTC. In this Week, we are focusing on educating employees about safety and risks associated with accidents. We believe such efforts will help employees avoid potential risks, injuries and occupational diseases besides improving their corporate efficiency, job satisfaction and productivity,'' said Ismail Hasan Al Balooshi, Director of Strategy and Business Development at Dubai Taxi Corporation.

''Implementing the health and safety standards is not confined to DTC's employees only but spans the entire segments of the community. In this sense, the DTC has a social responsibility to organize a host of events and activities for employees, customers and stakeholders to improve the work environment and raise the community awareness of the safety standards. The underlying objective of these endeavors is to turn these standards into positive practices embraced by people in their daily life. With this in mind, this Week's events highlighted DTC's awareness campaign made via the social media to raise the awareness of all community members of the best health and safety practices," explained Al Blooshi.

"The Week offered tips to follow at home, workplace, and on the road along with health aspects related to food, first aid, fire safety, and fitness classes. It also called for rolling out various initiatives to raise staff's health, such as evacuation drills during emergencies, free medical tests and awareness-raising workshops run by participants. It also included a variety of programs, lectures and fitness activities for school students in Dubai. The event attracted nearly 3000 visitors, and was supported by various entities such as Al Dobowi Tyre Company, Dubai Police General Head Quarters, Dubai Corporation for Ambulance Services, Dubai Civil Defense, Dubai Municipality, Dubai Health Authority, Dr Nutrition Centre, and others,'' he added.

''The achievements and prestigious international awards obtained by the DTC are a tribute to its continuous efforts and field visits. In recent years. Our efforts in promoting the health and safety have culminated in winning several awards, such as the best speed limiter initiative in RTA's Safety Award in 2014. Awards collected also include RoSPA Silver Award in Health and Safety, RTA Safety Award for the Best Health and Safety Team in 2012, and many other awards. These accolades have ranked the DTC in the forefront of entities in the field of occupational health and safety,'' concluded Al Blooshi.