Oct 04 2017
Dubai Maritime City Authority briefs RTA on 'Sea Dubai' initiative, reviews latest maritime lines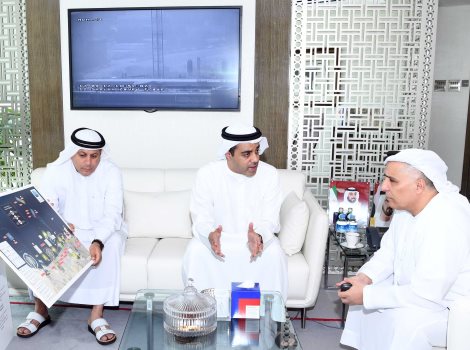 HE Mattar Al Tayer, Director-General and Chairman of the Board of Executive Directors of Roads and Transport Authority (RTA) praised the 'Sea Dubai' initiative launched by the Dubai Maritime City Authority (DMCA). He described the initiative as instrumental to leveraging the cooperation between key stakeholders in the maritime business in public and private sectors towards boosting the competitiveness of Dubai as a prominent global maritime leisure destination.

Receiving Amer Ali, Executive Director of Dubai Maritime City Authority, Al Tayer stressed the importance of making concerted efforts for the success of 'Sea Dubai' initiative, which lays solid foundations for boosting the competitiveness of Dubai in the global marine marketplace. He pledged RTA's support to the initiative and hailed the efforts of the DMCA in driving the economic development through providing infrastructure and legislation needed for nurturing a safe maritime environment attractive to business and investments.

The DMCA gave an elaborate explanation of 'Sea Dubai' initiative that sets clear structures for streamlining the operation of leisure marine transit modes within the local territorial waters. It involves accelerating and facilitating the registration and licensing of sailing permits in collaboration with public and private entities. The initiative defines the fixed maritime speeds, designated tourist maritime destinations, and the locations of rest houses, floating restaurants, and marinas as well as the types of permitted boats. The step is bound to propel the marine leisure activities and raise its stake as a vital contributor to the growth of the tourist and marine sector in Dubai.

During the meeting, the DMCA presented updated lines of marine transit modes including designated lines of the Water Bus and the Water Taxi linking RTA stations in the Dubai Creek, Jumeirah and the Dubai Water Canal, thus ensuring safety & smooth mobility of these modes. Discussions also covered Ras Al Khor Marina Project, which will be designated for offloading foodstuffs (fruits & vegetables) on wooden boats.

Amer was delighted with the meeting with Al Tayer and RTA team, and the opportunity to spotlight the new initiative that is set to elevate the profile of Dubai in the maritime leisure tourist map. He reiterated DMCA's commitment to step up joint efforts with strategic partners towards shaping the future of the maritime sector and maintaining the leading role of the city envisioned by Dubai leadership.

"We are thrilled with the positive implications of our new initiative aimed at supporting & integrating the maritime leisure products and offering a great experience to sea-goers in Dubai. It will also build on our continuous achievements of raising the appeal, competitiveness and extensiveness of the local maritime sector. With the support of our partners in the public and private sectors, we are confident of our ability to realize the objectives of 'Sea Dubai' initiative in undertaking ambitious projects, construct sophisticated facilities, and generate new job prospects in the maritime leisure industry through capitalising on the highly competitive standing of Dubai. The ultimate objective of these endeavours is to empower the maritime leisure sector to play a key role in materialising the ambitious vision of building a safe, integrated and sustainable marine sector," said Amer