Nov 23 2017
Briefing MoI on smart licensing & Monitoring practices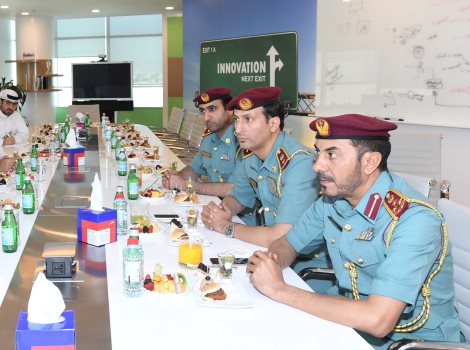 The Roads and Transport Authority (RTA) has informed a visiting delegation from the Ministry of Interior (MoI) on the best global practices adopted in licensing of vehicles & drivers, monitoring, and inspection among other fields.

Ahmed Hashim Bahrozyan, CEO of RTA Licensing Agency, and Brigadier Ali Al-Shamsi, Director General of the Federal Vehicles & Drivers Licensing Directorate attended the briefing together with several directors and officials of both parties.

"The visit was made in the context of RTA's keenness to maintain communication with federal and local entities and share expertise with them in various fields of relevance. A visual presentation was made to brief visitors on the organisation charts of the RTA and the Licensing Agency. They were also introduced to the key licensing practices, tasks and standards adopted by RTA's Vehicle Licensing, Commercial Transport Activities, Drivers Training & Qualification, Drivers Licensing, and Monitoring & Enforcement Departments," said Bahrozyan.

"The delegation visited the Smart Monitoring Center opened in November 2016 where Mohammed Waleed Nabhan, Director of Monitoring & Enforcement, acquainted them with the business processes of the Center. Nabhan briefed visitors on some tasks of the Center including issuing offence tickets in absentia to service providers such as driving schools and vehicle testing centres. He also introduced them to Vehicles Safety System for remote monitoring of truck faults and detecting drivers' attitudes. The briefing also covered the system of measuring the dimensions, weight and speed of heavy trucks without stopping them, thus obviating the need for deploying field technical inspectors from the RTA or the Police."

Bahrozyan reported that the federal delegation of the General Directorate of Vehicles & Drivers Licensing at the Ministry of Interior commended the advanced and distinctive model of the Licensing Agency, and praised the role of the visit in exchanging expertise and knowledge in the field of licensing.