Nov 18 2017
Al Tayer unveils Dubai World Challenge for Self-Driving Transport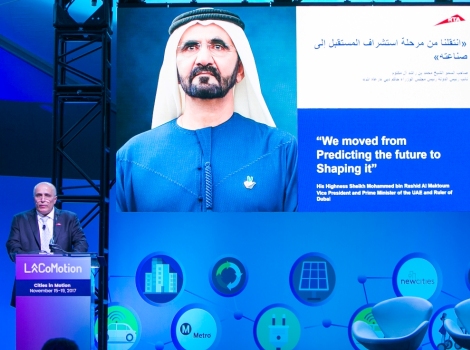 The Roads and Transport Authority (RTA) was among the participants in LA CoMotion Congress; one of the biggest global platforms dedicated to the future of mobility held in Los Angeles, USA aimed at bringing a radical change in urban mobility technology and developing technology-driven solutions for urban mobility issues. The event attracted the participation of heads of global transport entities, key technology developers, private companies, start-ups and transport manufacturers.
HE Mattar Al Tayer, Director-General and Chairman of the Board of Executive Directors of the RTA, led RTA's delegation taking part in the Congress, which was opened by HE Eric Garcetti, Mayor of Los Angeles, and attended by HE John Rossant Chairman of NewCities, as well as senior executives of Transport entities across the world.
During his participation in the main session of the Congress, Al Tayer said, "The Dubai World Challenge for Self-Driving Transport promises to be the largest global platform for businesses and R&D centres to undertake scenarios and applications of this technology on Dubai roads. It is an international competition aimed at encouraging leading industries of autonomous mobility to solve the existing problems such as traffic congestions, addressing low public transport ridership, tackling first and last mile challenge to lift riders to their final destinations, and broadening the scope of self-driving transportation. The competition covers three main categories: Transporting People, Transporting Goods, and Innovation.
"Under the leadership of HH Sheikh Mohammed bin Rashid Al Maktoum, Vice-President and Prime Minister of the UAE and Ruler of Dubai, the Emirate has become a prominent tourist and business centre in the world; which is attributed to the role of our leadership in driving innovation across the board and adopting an open & diverse economic policy. The drive is also supported by advanced and integrated infrastructure such as the Dubai and Al Maktoum International Airports, the Dubai Metro (the longest driverless metro in the world), Jebel Ali Port (one of the largest man-made ports in the world), and Burj Khalifa (the world's tallest building). Such facilities empower Dubai to host mega-events such as Expo 2020."
Al Tayer highlighted the efforts of the RTA in upgrading the infrastructure of roads and transit systems in Dubai; which contributed to pushing Dubai to the next level such as: Achieving the Number 1 ranking in the Quality of Roads for four successive years (The Global Competitiveness Report of the World Economic Forum, Davos). Deliverables include saving about 34 Billion Dollars worth of time and fuel costs that would have otherwise been wasted by traffic congestions between 2006 and 2016, raising public transport share from 6% in 2006 to 16% in 2016, and reducing road accident fatality rate from 22 per 100,000 population in 2006 to 3.5 per 100,000 population in 2016."
Future of Transportation
"There are three key elements driving the evolution of transportation worldwide: improving safety & security, reducing journey time by providing affordable mobility services & options tailored to customer needs, and establishing a sustainable transport system," said Al Tayer. "We have identified five transit means, global trends and emerging technologies, namely: self-driving transport , emerging transport modes (such as the Hyperloop and air taxi), shared mobility in several cities including transport on demand, and smart enablers assisting in the deployment of future modes. The sustainable transportation, such as electric/hybrid vehicles and hydrogen-powered vehicles, is also part of future trends," he added.
"The future of transportation faces several challenges such as customising transport modes to different conditions & environments, identifying funding and providing affordable prices, and techniques of migrating from conventional transit modes to the new modes. To overcome these challenges, coordination and joint action between public and private sectors should be stepped up. Such a transition requires conducting sound research on new technologies & modes, carrying out suitable and sufficient trials, completing all tests and obtaining government accreditation before introducing these new modes and technologies. The legislation governing the operation of these modes should also be developed, along with the construction of the necessary infrastructure, and raising the community awareness to accept such modes," added Al Tayer.
"Dubai is keen to predict and shape the future and improve mobility in the city. The RTA seeks to implement the directions of His Highness Sheikh Mohammed bin Rashid Al Maktoum to divert 25 percent of all trips in Dubai to self-driving modes by 2030. In this regard, RTA's Autonomous Mobility Strategy has been endorsed including all mass transit means such as trains, buses, marine transport, taxis, and private vehicles. The RTA has already started implementing the Smart Mobility Strategy in various fields such as the Dubai Metro, which lifts more than 650,000 riders per day, and the Dubai Tram, which includes some self-driving technologies.
"The second phase of the Dubai Tram features trials of fully self-driving trams as well as self-driving vehicles and minibuses. The RTA will also explore providing self-driving BRT, and implementing first & last mile coverage initiatives in partnership with the private sector. It also introduced the hourly car rental and launched the integrated mobility platform in Dubai (S' Hail) enabling customers to access all transport means in Dubai through a single window (smart app). Dubai is one of the first cities in the world to develop such an integrated platform, and provide 174 online services via smart phones and tablets," explained Al Tayer.
MoU
The RTA has signed an MoU with NewCities; an organisation comprising a global network of public and private sector leaders as well as the future of urban mobility technology innovators. It seeks to enhance the cooperation oriented towards making cities inclusive, connected, healthier and vibrant.
Al Tayer signed the MoU on behalf of the RTA, and John Rossant Chairman of NewCities signed on behalf of NewCities.
The MoU calls for more cooperation between the RTA and NewCities on future mobility studies, initiatives and projects in Dubai, providing information that helps the RTA carry out agreed studies or projects, exchanging information about the future of transport in cities, and enabling RTA's participation in events held by NewCities.
"This MoU enhances RTA's benefit from futuristic elements related to mobility directly & indirectly, connects the RTA with organisations & entities responsible & conducting futuristic studies, and shares knowledge related to the future of mobility worldwide," said Al Tayer.
Visits and Receptions
Al Tayer and the accompanying delegation visited several entities and firms including Hyperloop One where he reviewed the technical evolution of the Hyperloop technology such as the propulsion system, integration of electromagnetic systems, manufacturing process and means of building the entire integrated system. He also reviewed a series of technology tests and trials in the field. RTA delegation also visited GM Cruise, a specialist in self-driving vehicles where it explored cooperation in the field of autonomous mobility. RTA visitors also visited SpaceX to review the latest developments of the futuristic rapid transportation between cities and countries. The delegation also visited the new tunnel drilling site in LA and reviewed the latest boring technologies in use where the company is developing and testing a fast tunnel boring machine.
Al Tayer also met with HE Elon Musk, CEO of Tesla and discussed developments related to the 200 vehicles purchased by the RTA from Tesla and operated as part of Dubai Taxi fleet to serve the Dubai International Airport. Discussions also included the services provided by Dubai to electric vehicles and developments in connection with the new boring machine.
Al Tayer also held a meeting with HE Nina Hachigian, Deputy Mayor of Los Angeles to discuss possible cooperation and exchange of expertise. Al Tayer briefed the Mayor on the mobility projects undertaken by the RTA such as the Enterprise Command and Control Center, smart city projects and driverless vehicles. RTA delegation reviewed the plans of Los Angeles city about mass transit means as well as smart & shared transport. He also met with HE Alain Flausch, UITP Secretary General and discussed bilateral cooperation and RTA's preparations for hosting UITP MENA Congress & Exhibition in April 2018.