05 Jul 2021
RTA rolls out training of delivery bike drivers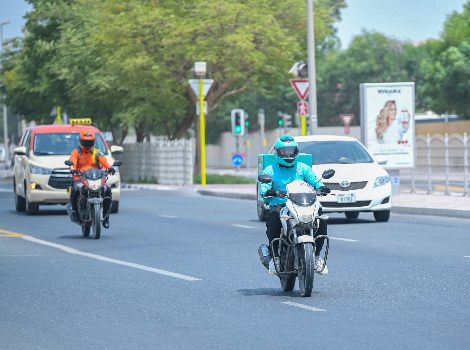 Dubai's Roads and Transport Authority (RTA) has recently been coordinating with the authorized drivers' institutes to qualify instructors to undertake the training of drivers of delivery motorcyclists in the Emirate. RTA is directly overseeing the induction of these drivers in tailor-made training courses approved by the concerned bodies. The initiative is part of RTA's ongoing efforts to boost the safety and security of roads in Dubai. It is also part of a master plan to regulate the business of delivery, logistics and electronic media companies in Dubai.

The approved drivers training institutes will undertake the training of drivers of delivery motorbikes in courses comprised of several basic elements. In particular, the course will define the obligations and procedures to be observed by drivers for their safety and the safety of community members, by avoiding any violations as a result of no compliance with the applicable rules and regulations.

The key components of the course include the legal responsibility of drivers, traffic rules relating to the driver, reasons and statistics of traffic incidents, how to deal with different driving conditions and how to react during traffic incidents and with emergency vehicles. At the end of the course, an assessment will be made to verify drivers' knowledge.

Qualifying drivers of delivery bikes is part of RTA's continuous efforts to bring happiness to customers and ensure compliance with the highest safety standards. It also contributes to the efforts of other parties concerned with the reduction of traffic incidents.

Following the soaring demand for the delivery services and the growth of the logistics sector in Dubai of late, RTA perceived the need to regulate and govern the business of this vital sector to bring it to the highest international standards, especially in addressing safety and security concerns. Accordingly, RTA embarked on preparing and introducing a set of standards befitting the needs of Dubai and in line with its pioneering role in the logistics industry worldwide.

RTA is making persistent efforts to raise the happiness of clients, be it individual or corporate clients, by launching initiatives in various sectors in line with the highest international standards. Such a process will cement Dubai's role in the logistics transport sector and contribute to realising RTA's vision to become 'The World Leader in Seamless & Sustainable Mobility.'