01 Jun 2022
RTA holds security and traffic safety exhibition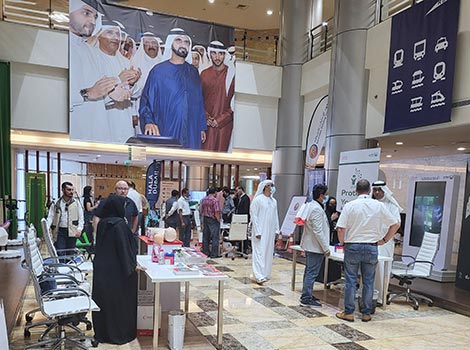 Dubai's Roads and Transport Authority (RTA) has recently held the Security and Traffic Safety exhibition at its Head Quarters. The three day event, included 7 educative workshops for RTA employees. RTA is keen to organise exhibitions and awareness workshops in line with its strategic goals and objectives that focus on safety, environmental sustainability, improving transport and traffic safety, and reducing accidents.
Participants included the Emirates Red Crescent, Dubai Police, Maxi-Cosi Middle East Region (Child Seat Training Company), Careem Centre, Tier Scooter Company, Emirates Driving Institute, Al Dhaher Corporation for Car Ozone Treatment, and Continental Tyres.
"The event aimed at raising awareness amongst employees about the security and safety across various fields including child safety onboard the vehicle. Maxi-Cosi Middle East Region, Child Seat Training Company, displayed types of child seats for vehicles according to age and gave a practical demonstration of the correct way of installation. Employees were also educated about the importance of tyre safety through a workshop conducted by the Emirates Driving Institute focused on the need to maintain the safety of tyres during the summer and the importance of the safety belt in protecting the driver and front-seat riders from sustaining injuries in traffic accidents," said Essa Al Amiri, Director of Administrative Services, Corporate Administrative Support Services Sector, RTA.
"Careem Bike, the operator of electric bikes, gave a verbal explanation about the safety guidelines of bicycles and the importance of staying in the designated lanes. Tier, the e-scooter operator, held a workshop about the safety tips related to e-scooters.
"A special workshop was held by the Dubai Police's (Aqdar) Programme for parents regarding the dangers of drugs to children and related laws and how to deal with anonymous fraud messages. The Emirates Red Crescent also held a First Aid workshop and onboard safety tips, while Al Dhaher Corporation for Car Ozone Treatment held a workshop on vehicle sterilisation and disinfection techniques," added Al Amiri.
The event was very popular among RTA's employees. It offered them an opportunity to learn and benefit from traffic laws and guidelines applicable to driving, cycling and riding e-scooters.