17 Jul 2019
Obtaining ISO Certification for Learning Outside Formal Education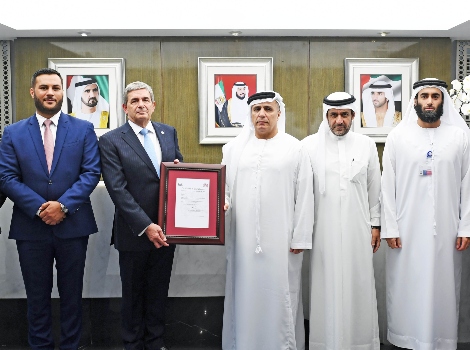 Roads and Transport Authority (RTA) has obtained ISO 29993:2017 Certificate for Learning Services Outside Formal Education from the British Standards Institution (BSI), rendering it the first entity in Dubai's Government to make this achievement.

HE Mattar Al Tayer, Director-General and Chairman of the Board of Executive Directors of RTA, received the certificate from Mr. Theuns Kotze, BSI Regional Managing Director for MENA, in the presence of Yousef Al Rida – CEO of Corporate Administrative Support Services Sector, Mansour Al Falasi, Director of Human Resources and Development, and Fatima Al Mandoos, Director of Corporate Planning & Development.

Al Tayer expressed his delight with obtaining this certificate, which focuses on the advancement and efficiency of the learning and training system inside organisations. It reveals the efforts made to assure the quality of the learning and training process, and that its needs were identified and addressed.
"RTA is keen on improving the deliverables of learning programmes in place for employees. We view RTA's training services as part of the tools of developing the human capital to meet the challenges of the changing professional requirements," added Al Tayer.

Earning ISO certificate for Learning Services Outside Formal Education reflects the huge efforts made to realise RTA's seventh strategic goal: Advance RTA. It also underlines RTA's approach to the development of human resources and the polishing of leadership and professional skills of employees towards improving occupational efficiency.

"RTA has recently opened an Employees Training Centre at Marina Plaza on a 3-level building that can accommodate 350 trainees. It has 17 training halls fitted with innovative training tools, smart apps and edge-cutting educational technologies. The centre includes an innovation hall, meeting room, 50-seat theatre, smart-learning library, computer lab, and an assessment centre. It consists of four divisions namely administrative & technical training, skills improvement, and logistical support," he concluded.

Obtaining ISO 29993:2017 Certificate involves completing a multi-step process starting with a Gap Analysis. In this regard, RTA sought the assistance of a specialist entity to ensure the readiness of the training centre to fulfil the required standards. Employees received customised training on the implementation of this standard, and the training process has been streamlined to bring it in line with the standard.

The second step focused on analysing the training needs according to the standard and designing compatible programmes. The third step was the final audit of the external assessor from BSI, which verified the compatibility of programmes and procedures of the training centre with the international standards, and that it is competent enough to support and drive the learning process.