22 Jun 2022
MoU with Queensland's Department of Transport and Main Roads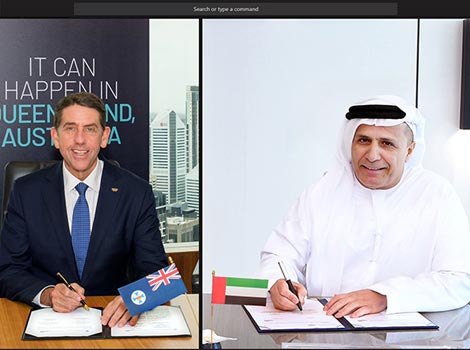 Dubai's Roads and Transport Authority (RTA) has recently signed a Memorandum of Understanding with the Department of Transport and Main Roads, Queensland, Australia to boost bilateral relations in the interest of both parties. The MoU provides for sharing expertise and technical consultancies in various fields as well as information and studies to make use of the existing resources.
His Excellency Mattar Al Tayer, Director-General, Chairman of the Board of Executive Directors of the Roads and Transport Authority, signed the MoU on behalf of RTA, and Hon Cameron Dick, Treasurer and Minister for Trade and Investment in the Queensland Government signed on behalf of Department of Transport and Main Roads, Queensland.
The MoU provided for enhancing cooperation and exchanging expertise and the best practices of the public transport industry. Areas of potential cooperation include electric and hydrogen buses, high-frequency buses, dedicated bus lanes, bus priority systems, transport technology and innovation, maritime transport policies, integrating transportation systems and network planning and design, outsourcing bus services, and engaging the private sector in addition to planning and designing buses stops.
His Excellency Mattar Al Tayer expressed his pleasure at the signing of this MoU as the two parties share many goals and have the potential to exchange valuable experiences in planning and operating passenger transport services, especially public buses. They can also join hands to develop sustainable and innovative solutions for mass transportation, including express buses on dedicated lanes and electric buses.
Hon Cameron Dick praised the extensive development seen by Dubai in a variety of fields, specifically the infrastructure of public transport describing it as crucial for the movement of people around the Emirate. He stressed that MoU would offer both parties exposure to world-class experience, knowledge and practices.