Mar 08 2019
International safety operation certification for Dubai Ferry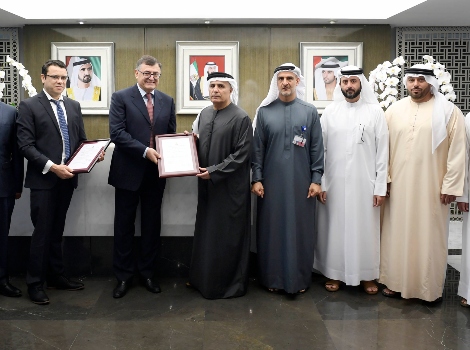 Dubai Roads and Transport Authority (RTA) has received the International Safety Management (ISM) Certificate Code from Bureau Veritas Group; a shipping classification organisation approved by the International Association of Classification Societies (IACS).

HE Mattar Al Tayer, Director-General and Chairman of the Board of Executive Directors RTA, was delighted on receiving this coveted certificate from a specialist international agency. Maintaining marine transit safety, according to the highest international standards, is one of RTA's top priorities, as it reinforce the public transport network in the city, and reflects the city's aesthetic appeal which enhances the image of Dubai as a marine tourist destination.
Al Tayer made these remarks while accepting the ISM certificate of the Dubai Ferry at RTA, from Sergej Krstanovic, Marine Chief Executive, Bureau Veritas Group. Attendees included Ahmed Hashim Bahrozyan, CEO of Public Transport Agency; and Mohammed Abu Baker Al Hashemi, Director of Marine Transport and several other concerned officials.

"The ISM certification is the highest international award that ensures the compliance with the safe operation of ships, and the control of maritime pollution in accordance with the requisites of the International Convention for the Safety of Life at Sea (SOLAS); which is approved by the UN International Maritime Organisation (IMO)" said Al Hashemi.

"Bureau Veritas Group audited RTA's Marine Transport Department and the Ferries to verify their compliance with the safety stipulations in place; which resulted in obtaining this international marine safety certificate. Ferries comply with the highest safety standards in terms of experienced professional crews, search and rescue tools, firefighting devices, and the prevention of maritime pollution. They are fitted with five life rafts capable of carrying 125 passengers, 110 lifejackets, 6 lifelines, command room fitted with maritime equipment (maritime radar), depth measuring tools, e-charts and tracking devices approved by the internationally.

"RTA's Marine Transport Department is conducting intensive training courses and drills to enhance the efficiency of ferry operators and ensure they are well-versed with the latest navigation systems, and therefore the compliance with the ISM certificate. The RTA is always keen on the safety of marine transit modes; which are particularly appealing to tourists, visitors, citizens and residents of Dubai," concluded Al Hashemi.