31 Jan 2022
Training 190 employees on data sciences and artificial intelligence
(The training is under the Fourth Industrial Revolution Mobility Lab)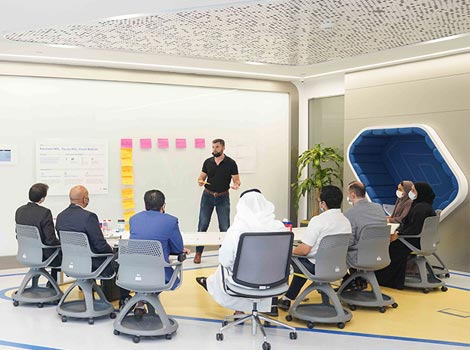 Dubai's Roads and Transport Authority (RTA) has recently completed the training of about 190 employees on data sciences and artificial intelligence (AI) technologies, which have become the backbone of all RTA's daily operations and services provided to various spectrums of the community. These employees were trained at the RTA Fourth Industrial Revolution Mobility Lab through training programs with multiple levels, starting with the basics in data science, all the way for some employees to obtain a scholarship to complete postgraduate studies in big data.
"RTA has developed the Fourth Industrial Revolution Mobility Lab as part of its ongoing efforts to transform into data-driven transport authority. Data, especially big data is critically important in today's business world as it constitutes a wealth of opportunities that give RTA an edge in assuming a leading role in the transportation industry. It can also employ such data in developing AI enablers. The lab has been designed following extensive local and global benchmarking studies to examine AI enablers to identify the needs and facilities required for the success of the lab," said Mousa Mohamed Al Raeisy, Director of Technology, Strategy and Governance at RTA's Corporate Technology Support Services Sector.
"The Fourth Industrial Revolution Mobility Lab acts as a centre of excellence, innovation and continuous learning, and a catalyst for achieving RTA's objectives and Dubai's vision to be the smartest and happiest city in the world, which fall in line with the UAE's Strategy for Artificial Intelligence. The lab also contributes to diffusing the culture of data sciences and AI for users by holding workshops and assisting knowledge transfer such that employees can pick up the skills of using big data and AI models," added Al Raeisy.
The lab receives RTA's employees from various specialities to open the doors for them to learn and gain experience. The 4th Industrial Revolution Transportation Lab consists of 10 different corners designed to serve innovation and build the next generation of AI transport products. The corners range from spaces dedicated to supporting services such as smart meeting and training rooms, and high-tech to support innovation and future foresight such as design thinking, digital twinning and AI factory.
RTA always seeks to invest in technical capacities and human resources. It launched a programme tailored to enhance employees' data management capabilities under the name: Data Pioneers. Employees from various RTA's departments were trained on the principles of data sciences to nurture a society aware of the importance of obtaining, analysing and harnessing data in performing functional tasks and supporting RTA's operations and decision-making. The lab is used to convene several events such as design thinking workshops, youth gatherings, and discussion groups about the 4th Industrial Revolution, among others.