Jan 25 2021
Smart Safety License Programme for Workforce Safety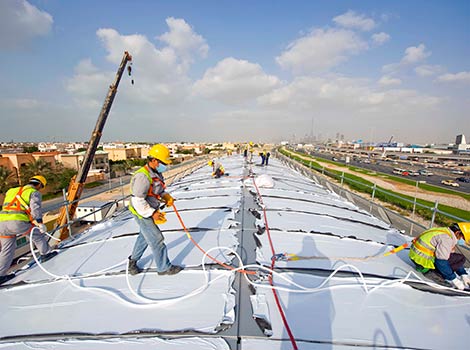 As part of its commitment to continually improve the health, safety and environmental (HSE) performance, and develop innovative concepts that turn ambitions into reality, Dubai's Roads and Transport Authority (RTA) launched e-certified safety training programme. The first batch of this programme was launched at the Rail Agency on 16th March 2019 under the name the 'Smart Safety License' programme, S2L in short.
Focused on the most common hazards at workplaces, the training modules of the programme seek to familiarise RTA employees as well as those working in RTA's projects and facilities with the standard work practices, realise RTA's expectations and apply the Health, Safety and Environment protocols at all workplaces. The programme also aims to boost the morale of RTA's workforce by providing a safe workspace while attaching full attention to Health, Safety and Environmental Sustainability issues.
This innovative programme is unique in several ways as it sets 'many firsts' of the industry in how a resourceful HSE training can be implemented in terms of criteria for qualification, validity, and competency levels. Furthermore, it provides electronic-verification.
The programme targets three levels of employees (L1, L2, and L3) of employees: Workmen (L1), Middle Management (L2) and Top Management (L3). The training varies according to job responsibilities, titles and disciplines of participants. Therefore, the training pieces are tailored to the needs of each target groups and are not generic. Once a participant achieves the minimum competency requirements set by RTA in the form of a three-hour training session, and passes a written exam, he or she will be enrolled into the Smart Safety License (S2L) e-certification system – Salamati - a mobile application developed for this programme that available on both Android and iOS phones platforms.
"In the initial phase, the programme completed the training of 3343 participants among contractor employees of different nationalities, languages and demographics. The programme will now shift to Phase II that covers employees of RTA," said Eng. Nada Jasim, Director of Safety, Risk, Regulation and Planning at RTA's Strategy and Corporate Governance Sector.
"The Smart Safety Licensing (S2L) programme will work in tandem with the legal requirements of Health, Safety and Environmental regulations of the UAE and the Emirate of Dubai. It will contribute to realising several RTA's Strategic goals namely; Advance RTA, Safety & Environmental Sustainability, People's Happiness and a Smart Dubai," concluded Nada.