May 30 2019
Signing MoU with Society for Human Resource Management to improve training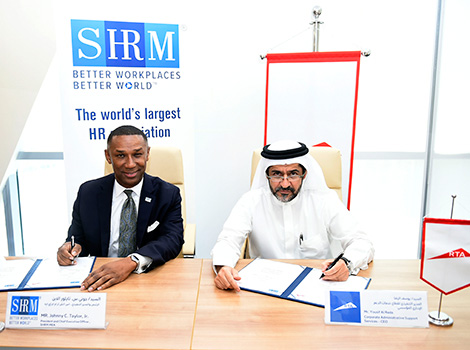 Dubai's Roads and Transport Authority (RTA) signed a Memorandum of Understanding (MoU) with the Society for Human Resource Management (SHRM) calling for the two parties to cooperate in the fields of training, career and educational development, and private projects related to human resources.

Yousef Al Rida, CEO of RTA's Corporate Administrative Support Services Sector signed for RTA, and Johnny C. Taylor, Jr. President and CEO of SHRM, signed on behalf of the SHRM. The signing took place at RTA's Training Centre at Dubai Marina in the presence of individuals concerned from both parties.

"The signing of the MoU is part of our government and leaders' drive to boost the public-private partnership (PPP). The MoU entitles RTA to take part in relevant professional conventions and forums held by SHRM. Equally, SHRM will take part in developing and implementing RTA projects related to human resources development," said Al Rida.

"The MoU calls for sharing research and studies published in human resources magazines. It will also pave the way for exchanging experience and information enriching human resources, which is a driving force for the improvement of corporate business," he noted.

"We view the signing of this MoU with RTA as an exceptional development as it marks the first time SHRM is engaged in a partnership with a UAE government entity not specialised in the services and practices of human resources," said Taylor.

"Nurturing a better business environment is not all about human resources. It rather engages SHRM with various partners around the globe in efforts to improve the business, employees and job environments. We are excited to cooperate with RTA and pay tribute to its human resources practices conforming to the top global standards. The recently opened RTA training centre features top design rendering it a perfect platform for launching a better career for future employees," added Taylor.

The delegation visited RTA's Training Centre and toured various facilities and training halls. They praised RTA's keenness for qualifying and training employees to uplift their job performance.