Jan 12 2020
RTA wins American's RIMS Global Enterprise Risk Management Award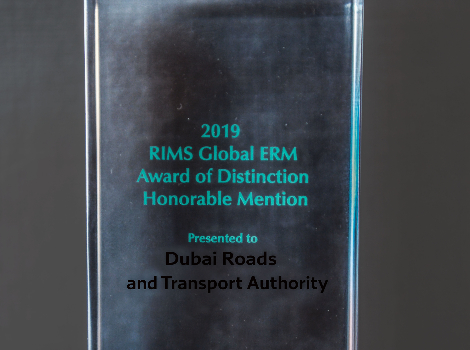 Roads and Transport Authority (RTA) has won RIMS Global ERM Award of Distinction Honorable Mention 2019. Granted by the American Risk Management Society (RIMS), the award illustrates the maturity level achieved by RTA in the vital field of Enterprise Risk Management (ERM) towards achieving RTA's strategic objectives.

"Winning this award is a testament to RTA's fulfilment of all ERM criteria such as innovation, corporate values, measurable performance indicators, tangible and sustainable results, and the ability to share knowledge with stakeholders," said Nasser Abu Shehab, CEO of RTA's Strategy & Corporate Governance Sector.

The award clearly reflects RTA's efforts to adopt best approaches to anticipated challenges facing current and future projects, especially as RTA is a key entity tasked with the development of Dubai infrastructure.

"The award's synopsis referred to RTA's sound scientific planning for solutions to challenges encountered by megaprojects. The submission bid reviewed the methodology and framework of RTA's ERM, which enabled the leadership team to tackle emerging risks management and opportunities, and implement corporate flexibility to achieve strategic goals in cooperation with stakeholders," said Abu Shehab.

RIMS is a non-profit organization dedicated to promoting global risk management concepts. Founded in 1950, RIMS has a membership of more than 10,000 risk management professionals representing more than 3,500 industrial, service, nonprofit, charitable and government entities in more than 60 countries worldwide.