05 Jan 2022
Scooped two international awards and a regional one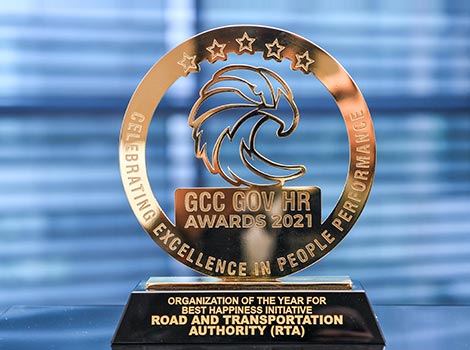 Dubai's Roads and Transport Authority (RTA) has won two main international and regional awards in three sub-categories of Human Resources and Development in 2021. RTA won Gold Stevie International Award for Qiyadi Programme and the Bronze Award for Future Leaders Programme.
Additionally, RTA won the GCC Gov HR Awards - Organization of the Year - Best Happiness Initiative in the GCC HR Summit (Employee Experience). This achievement crowns RTA's ongoing efforts to embed the culture of corporate excellence and leadership
Sultan Al Akraf, Director of Human Resources and Development, Corporate Administrative Support Services Sector, RTA, said, "Winning two further awards is a new achievement added to RTA's impressive collection of regional and international awards. Qiyadi Programme, which won the Gold Category, was launched in 2018 and targeted 19 young Emirati engineers. The programme has been carried out in three areas: leadership, health and technical specialisation. Graduate engineers, who have fulfilled the requirements of the programme, have been accredited by the UK's Institution of Civil Engineers (ICE).
"The Future Leaders Programme has been launched in line with RTA's 7th Strategic Goal (Advance RTA) as RTA aims to attract, develop and retain talents and align them with the future skills. Through these leadership programmes, RTA assesses the competencies and leadership enablers and designs leaders' development programmes geared to the future of mobility," added Al Akraf.
RTA won the GCC Gov HR Awards - Organization of the Year - Best Happiness Initiative in the GCC HR Summit reaffirms the special importance attached by RTA's senior leadership to employee happiness programmes and initiatives. RTA's Employee Experience submission was named the winner. A team has been formed based on a study of the functional categories of RTA, and some topics raised in opinion questionnaires were addressed, which raised the level of satisfaction of the target group among RTA's employees.
RTA's Human Resources and Development Department winning 2021 award is a testament to RTA's keenness to launch several initiatives to develop and refine the skills of employees. Such programmes are configured and implemented in line with the objectives of preparing leaders and qualifying employees by enrolling them in courses run by experts from various international organisations. This drive is in line with the aspirations and the scope of RTA, which is keen to provide qualified and competent employees who enjoy a high level of happiness and satisfaction.