06 Oct 2021
RTA initiatives at the 23rd WETEX exhibition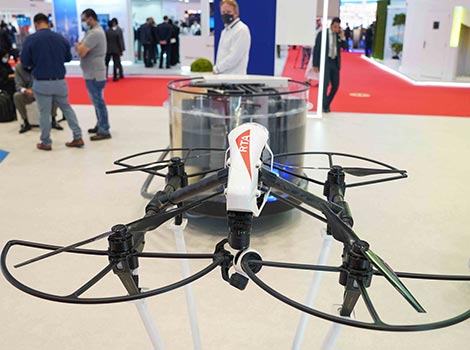 The Roads and Transport Authority (RTA) is showcasing a host of initiatives in the 23rd running of the Water, Energy, Technology, and Environment Exhibition (WETEX) and Dubai Solar Show hosted at the Dubai Exhibition Centre – Expo 2020 Dubai held under the theme: 'At the Forefront of Sustainability.
RTA's stand at Wetex displays a host of circular economy initiatives highlighted by an initiative for recycling tyres. It involves re-treading tyres to increase their lifespan, which saves fuel costs and reduces carbon dioxide emissions. Initiatives also include explaining the benefits of using trucks in logistical transport, as figures show fuel savings of 2 litres of fuels for every 100 km travelled and reducing 1.6 tons of carbon dioxide.
The artificial intelligence initiatives include using drones in monitoring heavy trucks on highways to ensure their safety and operational efficiency. The technology is also used in streamlining the monitoring of testing bays, the number-plates factory, and the operations of the smart licensing centre.
RTA also showcases environmentally friendly sustainability projects such as the recycling and treating of water used in washing public buses, which has a capacity of 25 cubic metres of water per day. The plant is powered by solar energy and uses recycled irrigation water.
RTA's participation is part of its support to sustainability and green economy towards realising the objective of transforming Dubai into the smartest city in the world. The details of the said projects and initiatives are narrated in the 6th Annual Sustainability Report 2020 released by RTA during WETEX and Dubai Solar Show. The Report describes RTA's efforts in the field of sustainability rendering it one of the most sustainable entities in the field of roads and transport worldwide. It also spotlights RTA's methodology in achieving and managing sustainability and integrating it into RTA's strategies and operations. It sheds light on RTA's efforts in tackling the Covid-19 and supporting the role of Dubai in combating this pandemic.