Nov 20 2019
RTA honours winners of Safety and Green Economy Awards 2019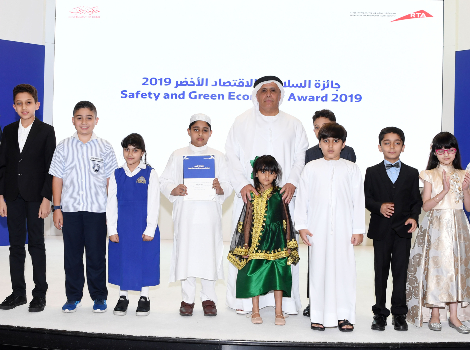 His Excellency Mattar Al Tayer, Director General and Chairman of the Board of Executive Directors of Roads and Transport Authority (RTA), has honoured winners of Safety and Green Economy Awards 2019. The awards are granted by RTA to strategic partners in government departments, service providers, suppliers, contractors, consultants and students as well as agencies and sectors of RTA in recognition of contributions of honourees in support of health and occupational safety, green economy and power-saving practices.

Several directors of public departments, CEOs of RTA and executives of contractor and consultancy firms attended the ceremony which was held in RTA's Al Wasl Auditorium.

Al Tayer presented the winners with Green Frond trophies. Dubai Electricity and Water Authority (DEWA) won the green economy award as the best strategic partner, and the Emirates Driving Institute won the best service provider award. Belhasa Six Construct LLC won the best contractor award, and Dubai Taxi Corporation won the best RTA sector/agency award together with the best project award. Student Tasneem Al Amari won the green economy award for students, and Ms. Noor Dawood award won the same in the category of RTA employees.

Al Tayer also honoured Mohammed Sufian in the category of the promising environmental ambassador aged eight years and below. He also honoured Saif Ghaleb, Ranad Hamza Amarneh, Ali Omran and Abdullah Ghaleb in the category of the promising environmental ambassador aged nine years and above. Al Tayer felicitated winners of the best three drawings: Omar Mahmoud, Murtada Akhlaqi and Sharifa Al Hashmi.

Safety Award

Al Tayer honoured winners of Safety Awards presented by RTA to lament the best safety practices of agencies, sectors, firms and individuals in the entire operations of RTA. Dubai Taxi Corporation won the best safety initiative award. Parsons Overseas Ltd won the best safety consultant award, and Parsons-Sistra Consortium came second. Belhasa Six Construct won the best safety contractor award (large firms), and Serco, the Metro operator, was second. Al-Dobawi Tire Company was the winner of the best safety contractor award (small firms) and Serco, Tram operator, finished second. Mohammed Nazim Abdul Latif was the winner of the best worker of construction companies, and Ramesh Prasad was the runner-up.

In the safety star award, the winner was Hassani Mohammadi, and the second was Sarvanan Bamraj. In the public transport drivers award, Ahmed Khan Mumen won the best taxi driver category, Syed Imtiaz Ali came second, and Hussein Tikumkara Valabel was third. In best bus driver category, Gurbaksh Singh was the winner, and Abdullah Hussein Ibrahim came second. The best maritime transport operator award was won by Mastaba Mugimathubada.
At the end of the ceremony, Al Tayer honoured members of the two judges' panels of safety and green economy programmes as well as RTA's team overseeing the safety and green economy awards.