06 Jun 2022
RTA holds transport technology forum in collaboration with Huawei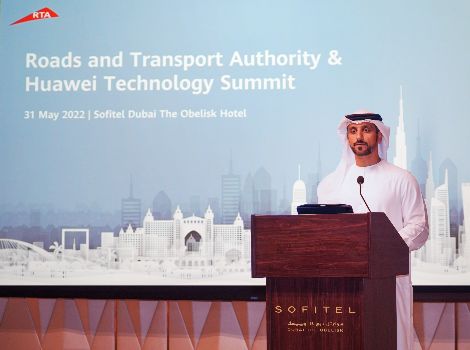 Dubai's Roads and Transport Authority (RTA) has organized a technology summit with Huawei to examine the latest technology trends in the field of mobility and public transport.

The summit, which took place at the Sofitel Dubai The Obelisk Hotel, was attended by Mohammed Al Mudharreb, CEO of RTA's Corporate Technology Support Services Sector, Alaa Elshimy, Managing Director and Senior Vice President of Enterprise Business Group, Huawei Middle East, and Brent Lee, General Manager of Huawei Enterprise Business Group, UAE.

"The summit aimed to develop innovative and technology-driven solutions such as artificial intelligence, big data, cloud computing, Internet of things, 5G and other technologies in the field of transport to go in line with RTA's digital transformation. Holding the summit signals the importance of cooperating with global technology leaders in shaping the future of digital transformation of transportation and realising RTA's vision to become 'The world leader in seamless & sustainable mobility," said Al Mudharreb.

"The summit was held in the context of the existing and fruitful partnership with Huawei. It is a manifestation of the MoU signed between RTA and Huawei that calls for cooperation in technology, and the exchange of knowledge, experience and best global practices to accelerate the digital transformation of public transport, roads and trains. It also seeks to strengthen RTA's digital infrastructure for information and communication technology to pave the way for digital and smart transformation in the relevant business of RTA's agencies and sectors.

"The technology summit supported RTA's digitisation as it examined the latest technology trends and apps of the transportation industry and reviewed the best-case scenarios of digital transformation and their feasibility. RTA is keen to play a leading role in digitisation drive and transform into a data-driven entity capable of achieving its future goals (2021-2025) across a variety of fields such as soft and shared mobility, digital transformation, 4th industrial revolution, self-driving transport and future transportation means," concluded the CEO of Corporate Technology Support Services Sector, RTA.

Jerry Liu, CEO of Huawei UAE, said: "We are delighted and proud to be partnering with RTA to support their strategy aimed at developing the transportation sector through accelerating the digitisation of their services, by exploring opportunities to promote the adoption of advanced technologies such as AI, Cloud Computing and Big Data in the services they offer.

"Huawei is committed to providing its latest ICT solutions and sharing its best global practices and experiences to support RTA in accelerating the digital transformation of public transport services and developing a strong ICT infrastructure capable of meeting the future demands of the sector and achieving sustainable economic development in line with the innovation agenda of the UAE government," he added.