23 Dec 2021
RTA holds Open Day for Health, Safety and Environment 2021
(The event is held under the theme: Let's Cooperate for Conserving the Environment)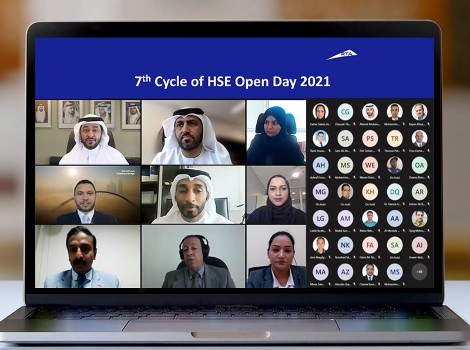 Dubai's Roads and Transport Authority (RTA) has celebrated the 7th Open Day for Health, Safety and Environment under the theme: Let's Cooperate for Conserving the Environment. The event, which was held via video conference, attracted experts from RTA and other entities including senior officials and professors. Discussions focused on means of developing innovative and environmentally sustainable solutions, and motivating innovation in support of sustainable development besides showcasing RTA's efforts in this regard.

Nasser Abu Shehab, CEO of Strategy and Corporate Governance Sector, RTA, opened the event and welcomed attendees and participants. He also noted that the concept of sustainability has become deeply rooted in RTA. It is a key driver for protecting and rationalising the use of energy and reducing carbon emissions. It forms an integral part of RTA's business priorities in line with RTA's vision of becoming: The World Leader in Seamless and Sustainable Mobility.

Nada Jasim, Director of Safety, Risk, Regulation and Planning at the Strategy and Corporate Governance Sector, RTA, said, "RTA is making sustained efforts towards achieving a sustainable and environmentally friendly mass transportation system. It seeks to integrate this system and align it with its strategic objective: Safety and Environmental Sustainability," she noted.

Shawqi Ghani, Associate Professor, Department of Sustainable and Renewable Energy Engineering, College of Engineering and Head of Research Funding Department at the University of Sharjah made a presentation that discussed challenges from fossil fuel combustion, climate change, innovative technologies to mitigate the effects of climate change, and a roadmap for the global energy sector.

Chitrai Bon Sylvan, Head of Science and Engineering Department, Curtin University Dubai spoke about practices for a sustainable future including cleaner production strategy, energy conservation practices, water conservation practices and waste management practices.

Sochi Dube Daya, Associate Professor, Department of Business Administration, Manipal Academy of Higher Education, made a presentation about block chain technology, which opens a new path to a sustainable environment, and the role of this technology in promoting sustainability and the circular economy.

Mohammed Al Amiri, Director of the Rail Maintenance, Rail Agency, RTA explained Route 2020 Stations of Dubai Metro project obtaining the Gold Certificate from the Green Building Council in the United States (Golden LEED Certificate). RTA has been awarded this prestigious certificate for making a host of achievements highlighted by saving energy costs, saving water consumption, reducing carbon emissions, decreasing operating costs, appreciating the value of assets, promoting a healthy and environmental atmosphere for passengers and improving the indoor air quality.

Bilal Jabr, Chief Engineer, Safety, Risk, Regulation and Planning, RTA, highlighted the global warming and climate change phenomena to raise the environmental awareness of the participants. He also reflected on the efforts of the UAE and Dubai as well as RTA's plans to tackle this phenomenon.

Nada concluded by thanking the participants from RTA and external parties and expressing pride in their effective contribution that had enriched the discussions and resulted in interactive and constructive ideas in this vital field.