04 Apr 2022
RTA holds initiatives targeting several segments during Ramadan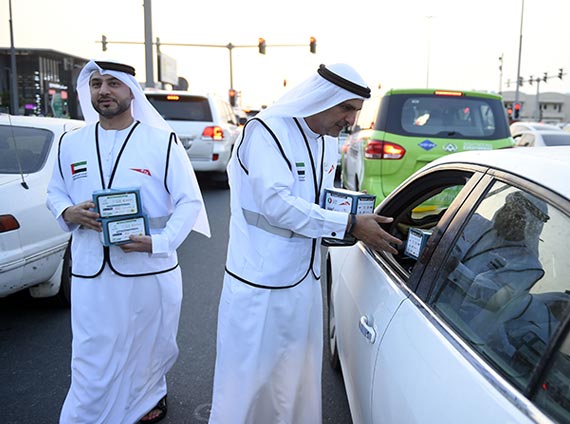 Dubai's Roads and Transport Authority (RTA) is organising several community initiatives during the holy month of Ramadan to promote the values of giving and social responsibility. Initiatives are run in cooperation with the First Abu Dhabi Bank, and KEOLIS-MHI company, responsible for operating and maintaining the Dubai Metro, and operating the Dubai Tram. This cooperation stems from RTA's strategic goals and objectives that call for forging partnerships with the private sector in many fields, including community initiatives.
RTA's Ramadan initiatives target a wide range of community segments such as bus drivers, workers, delivery bike drivers and truck drivers, orphans and low-income families. The initiatives will be undertaken in cooperation with RTA's community partners and volunteers.
Meals-On-Wheels Initiative
Commenting on these initiatives, Rowdah Al Mehrizi, Director of Marketing and Corporate Communication, Corporate Administrative Support Services Sector, RTA, said, "This year, RTA is organising three Ramadan initiatives. The first is 'Meals-On-Wheels, which targets bus drivers, workers, delivery bike drivers, and truck drivers. Partners include First Abu Dhabi Bank, ENOC, Continental Tires, Beit Al Khair Society, Red Crescent, and Dar Al Ber Society. This initiative will provide 30,000 meals, at a rate of 1,000 Iftar meals per day. RTA will also provide 17,500 iftar meals, in cooperation with volunteers at its Head Office, and a special bus will be deployed to distribute meals."
Ramadan Rations Initiative
"The second initiative is 'Ramadan Rations,' which is held in conjunction with Zayed Humanitarian Day. Prepaid nol cards will be distributed to low-income families, which can be used in shopping at major retail stores, to meet the needs of recipients during the holy month," noted Rowdah.
Sabil Bread Initiative
The third initiative is 'Sabil Bread,' one of the projects of the Mohammed bin Rashid Al Maktoum Global Initiatives. It aims to provide free fresh bread to needy families and workers through smart devices provided in 10 districts of Dubai that can produce fresh bread with a single touch. RTA's role is to look after the device at Al Quoz through its Charity Purse.
"RTA is keen to ensure Ramadan activities are run in full force to benefit all target groups while observing all precautionary measures on the part of individuals, volunteering teams and organisers of Iftar initiatives. These Ramadan initiatives offer an opportunity for youth to volunteer, which will ensure the communication between individuals of different cultures and ages taking part in such initiatives," added Al Mehrizi.
"RTA is always keen to run a variety of Ramadan activities to benefit all target groups while ensuring that the individuals, volunteering teams and organisers of these programmes adhere to all precautionary measures. It considers such Ramadan initiatives an opportunity for youth to volunteer and engage with community members of different cultures and ages. It also promotes the volunteering work in which the UAE has an impressive record, thanks to the vision of leaders who embedded the concept of social responsibility and honed the skills of youth in undertaking volunteering works with the UAE and abroad.