Jan 19 2021
RTA holds 3rd virtual gathering of students on Scholarship Programme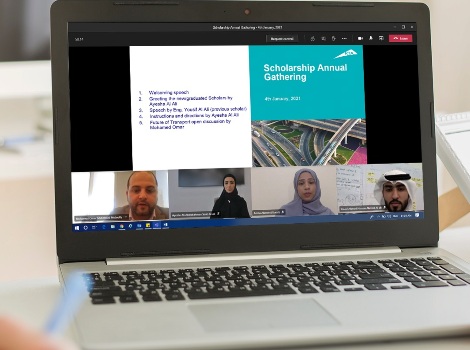 Dubai's Roads and Transport Authority (RTA) held its third virtual gathering of students on scholarships from RTA in various UAE universities. The gathering, which took place via Microsoft Teams, was aimed to follow up on the academic progress of students, and to screen any difficulties students might be encountering to give them advice on how to overcome them and pursue their ambitions.

"The Annual Gathering of students on RTA's scholarships programme is to follow up on the academic progress of students and guide them through their academic journey that contributes to RTA's 7th strategic goal (Advance RTA). The underlying objective of the programme is to attract and retain talents at RTA," said Sultan Al Akraf, Director of Human Resources and Development, Corporate Administrative Support Services Sector, RTA.

"This year gathering hosted Yousef Ahmed Al Ali, from the Rail Right-of-Way Department, who completed the study of mechanical engineering through RTA. Yousef reviewed his academic journey and lessons learnt along with the role of the RTA in supporting the scholarships programme. The meeting congratulated the graduates of the Scholarships Programme 2020," continued Al Akraf.

"45 students were enrolled in the latest batch of students to pursue Bachelors in Public Transport Engineering, Civil Engineering, Electrical, Engineering, Computer Engineering, Mechanics, Electronic Mechanics, and Sustainable Environmental Sciences. RTA's scholarship programme is catered to Emirati high school graduates to support their university studies in specialisations befitting RTA's scope of work such that they will be recruited after the completion of their studies. It is part of our endeavours to qualify Emiratis to meet future needs of Emiratisation as per RTA's strategic plan.

"The High-School Scholarships Programme extends full sponsorship to affiliated students including a fixed monthly subsidy to support their studies and motivate them to continue their academic qualification. RTA is making huge efforts to attract and qualify Emiratis in line with the directives of our leaders to empower citizens to contribute to the development drive underway," continued Al Akraf.