Jul 09 2019
RTA, Federal Transport Authority and Etihad Rail review railways legislation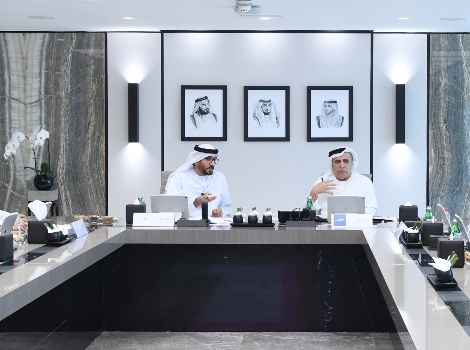 Dubai's Roads and Transport Authority (RTA) recently held a coordinative meeting with the Federal Transport Authority - Land and Maritime (FTA), and Etihad Rail at its headquarters. The meeting discussed the existing cooperation between the three entities and the federal legislation regulating rail networks in the UAE.

Attendees included H.E Mattar Al Tayer , Director General and Chairman of the Board of Executive Directors of RTA, H.E Eng. Ahmed Mohamed Sharif El Khoury, Director General of FTA, and H.E Eng. Shadi Malak, CEO of Etihad Rail.

Attendees examined the federal legislation proposed for regulating railways in the UAE, along with feedback received from the concerned parties about the draft law. Discussions also covered benefiting from the accumulated experience of RTA and Etihad Rail in managing trains and rail infrastructure.

The draft Federal Railways Regulation Law intends to regulate, improve and operate the federal railways legislation to bring it in line with the top global standards and ensure the delivery of rail services that facilitate the operation of Inter-Gulf railways along with the associated services in GCC states. It also seeks to ensure the constructional and operational safety of federal railways conforming to the Law and approved standards.

The draft law promotes the use of the federal railways for transiting cargoes, passengers or both, and supports environmental protection standards and sustainable growth. It is worth mentioning that the draft federal law has reached final stages and is currently under review at the Federal National Council.
The meeting examined the regulations of logistical inland transport in the light of starting Phase II of the Federal Railway Network extending 605 km from Ghuwaifat to Fujairah on the eastern coast. Several improvement ideas were offered under the UAE's vision of achieving excellence in regulating the transport and logistical sector; the backbone of the UAE economy.

"The draft Federal Railways Regulation Law is a milestone in drawing up regulations governing the federal and local railways network aimed at nurturing a national railway system," said Al Tayer.

"RTA is offering its expertise in transportation, especially railways in serving the federal and local entities. The experiences gained through the construction and operation of Dubai Metro and Tram have raised the profile of RTA as a leading and experienced entity specialised in this field," he added.

"The draft Federal Railways Regulation Law is a result of coordinated efforts between the Federal Transport Authority and the concerned local entities across the UAE. FTA is counting on the expertise and views of entities directly engaged in this field so that we can come up with a law compatible with the highest global standards, and capable of enhancing the role of railways in the logistics sector. Such a law will coast a drive to develop a comprehensive and integrated transportation infrastructure; which would raise the competitiveness of the UAE in the global logistics sector," said Eng. Ahmed El Khoury – Director General of FTA.