Jan 07 2021
RTA educates Abra drivers about best practices of marine transport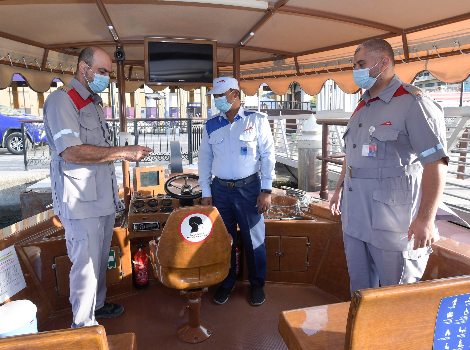 Roads and Transport Authority (RTA) has held a workshop to educate drivers of Abras operating at Sabkha and Baniyas marine stations about the precautionary measures against the Covid-19 and the best marine transport practices in this regard. Drivers were also briefed on offences to which violators are liable.

"This field workshop had taken place at Sabkha and Baniyas marine stations which benefitted about 35 Abra drivers by giving them a practical demonstration of the intended practices. The workshop stressed the importance of taking preventive measures against the coronavirus for the safety of both drivers and riders," said Saeed Al Balushi, Director of Passengers Transport Activities Monitoring, Public Transport Agency, RTA.

"Abra drivers had been briefed on violations such as the use of an expired driving permit, disregard to Abra queuing at the station's platform, reckless driving, lack of cleaning and maintenance of the interior and body of Abra, disregard to the maximum number of riders, collection of excess fare, overnight staying onboard the Abra, failure to wear the uniform, poor personal hygiene, and failure to comply with the safety and security measures in place," added Al Balushi.

"The importance of this workshop is highlighted by the increased public use of Abras during these cooler days tempting more riders, especially tourists and residents, to entertain the pleasures of riding traditional Abras. The Passengers Transport Activities Monitoring Department is keen to make these efforts in the context of realising RTA's vision: The world leader in seamless & sustainable mobility," he added.