06 Jul 2021
RTA completes initiative to display names of taxi drivers on top of taxis
(The step aims to recognise the efforts of outstanding taxi drivers during the Covid-19 pandemic)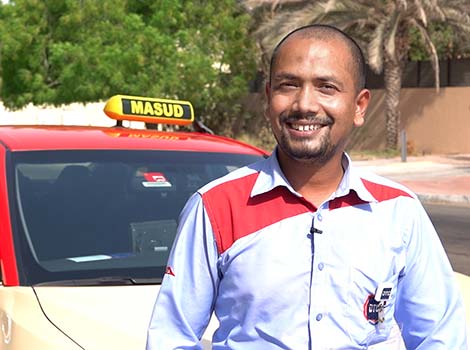 Dubai's Roads and Transport Authority (RTA) has completed an initiative for recognising taxi drivers who demonstrated high levels of social responsibility during the outbreak of Covid-19. RTA selected drivers who worked extra hours during the period of the pandemic for displaying their names on the yellow signs on top of taxis.
In this regard, RTA has fixed name stickers on 638 taxis of franchise companies as well as Dubai Taxi Cooperation according to the plan set to recognise the drivers and reward their efficient and professional performance.
RTA always seeks to develop new programmes and initiatives for encouraging drivers such as the traffic safety award launched nine years ago, recognising honest drivers and taxi drivers who have done excellent service every month. About AED 2,000,000 (Two Million Dirhams) is budgeted annually to reward outstanding drivers. Selected taxi drivers are also offered complimentary air tickets as part of the Traffic Safety Awards to bring their families on visit visas, which contributes to their psychological and family stability.
RTA always seeks to run initiatives for training drivers and improving their performance before asking them to sit behind the steering wheels. It considers them ambassadors in delivering the message of the RTA aiming to enhance the traffic safety, which contributes to realising Dubai Government's strategic goal of protecting lives and properties.