Nov 18 2020
RTA benchmarks vehicle testing practices with Sharjah Police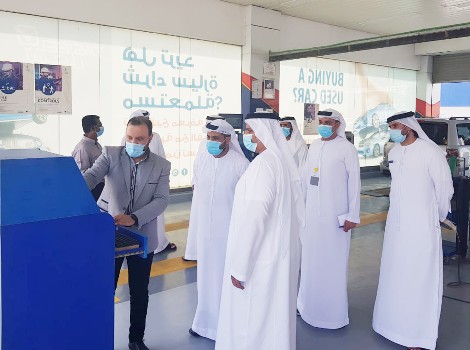 Dubai's Roads and Transport Authority (RTA) has recently received a delegation from the General Headquarters of Sharjah Police. The visit aimed at promoting the cooperation and sharing expertise of monitoring and testing vehicles. The two parties also carried out benchmarks of their operations and examined the best practices of the industry in a session held at ENOC Tasjeel Al Qusais, Dubai.

"Receiving Sharjah Police delegation is in response of the directives of our leaders to share knowledge and expertise between government entities at the federal or local levels. It is also part of the ongoing cooperation to develop the best techniques of delivering services to the public," said Mohammed Nabhan, Director of Licensing Activities Monitoring at RTA's Licensing Agency.

"We have discussed an array of topics in the fields of vehicle monitoring and inspection at the technical testing centres such as vehicles fitted with accessories by auto dealers and RTA's Centralized Inspection System (CIS). We also discussed the remote monitoring of vehicles at the smart monitoring centre at the Licensing Agency and how the system can detect violations and report them to the inspector for checking. RTA also explained how the system can capture images of vehicles during testing along with the benefits and duration of saving such data," commented Nabhan.

"During the visit, we also carried out benchmarking of (Fail) cases in tests between Dubai, Sharjah and other Emirates, and the standards of testing and approving the validity of re-treaded truck tyres. We also reviewed the conditions for issuing tester permits, and old private vehicles completely transformed into new models. The visit included a practical demonstration of technical testing in one of the testing bays at ENOC Tasjeel Al Qusais," concluded Nabhan.

At the end of the visit, the delegation of Sharjah Police praised the visit and the rich exchange of information and benchmarking various processes between the two parties. Visitors also noted that the visit was a great chance to review the best technical practices and testing protocols, an integral part of the safety of and security of drivers, vehicles and pedestrians.