May 03 2020
Reactivating mobile customers' happiness centres to deliver services via WhatsApp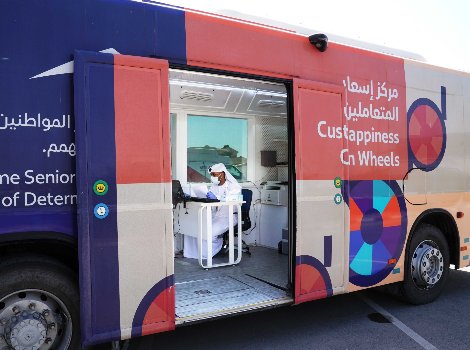 Dubai's Roads and Transport Authority (RTA) announced the relaunch of the mobile customers' happiness centre, adding another channel for delivering services to customers, especially senior citizens and people of determination. The mobile service channel is expected to boost customers satisfaction and happiness rating.

The mobile customers' happiness centre delivers six key services related to vehicles namely: registration, renewal of registration of a vehicle that needs testing, ownership certificate, ownership transfer certificate, export, and transfer. Up to now, 220 clients in 51 areas across Dubai have benefited from the service.

The service is available via WhatsApp number (0564146777). The customer needs to drop down his or her name and location so that the bus can be despatched to the intended destination. All the bookings should be done 3 days in advance.

The bus will deliver its services from 08:00 pm up to 12:00 am during Ramadan, receiving one client at a time. The client will be sanitised before boarding the bus, and the bus will be sanitised by the end of each transaction, in line with the preventive measures of fighting the spread of coronavirus.

The bus is fitted with self-service equipment and the client will normally not require staff intervention unless needed. However, a staff member will be in place to assist people of determination, and senior citizens/residents when needed.