Apr 25 2019
Public Transport Hackathon concludes with 12 innovative ideas
(The winning team will represent Dubai at the 3RD Y4PT Global Transport Hackathon in Stockholm in June 2019)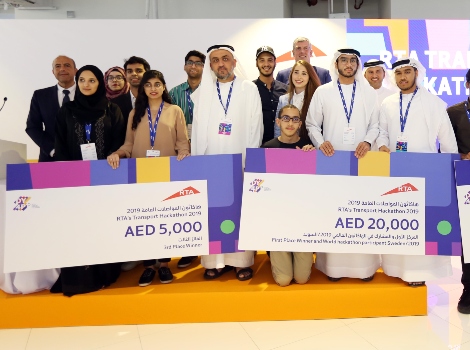 Dubai's Roads and Transport Authority (RTA) has concluded the 3rd Public Transport Hackathon held under Youth for Public Transport (Y4PT) initiative of the International Association for Public Transport (UITP). The event, which was held in Burj Khalifa in collaboration with Emaar and Serco, attracted 25 colleges from all over the UAE. Attendees included a host of CEOs, Directors and employees of RTA. The participants contributed 12 innovative ideas relating to public transport.

The final ideas were presented by 12 groups that comprised of 90 students. Following brainstorming sessions over three days, participants came up with innovative ideas epitomising the best technological solutions to cope with the challenges of public transport means in Dubai namely buses, tram, metro and marine transport, in addition to traffic safety and smart apps for serving customers. Comprising RTA leaders and partners, the jury decided the first three winners. Mr. Robot Group (encompassing the American University of Sharjah, American University of Dubai and Dubai University) won first place and prize money of AED 20,000.

Rasd Group (comprising American University of Dubai, Wollongong University, AMITY University and Manipal University) came in second place winning AED 10,000 while5 Bits Group (comprising Wollongong University and Khalifa University) won the third prize amounting to AED 5,000. The three winners were also awarded Certificates of Appreciation. Mr.Robot team will be traveling to Sweden to represent Dubai at the 3rd Y4PT Global Transport Hackathon in Stockholm this June 2019.

Engaging university students in the past editions of Public Transport Hackathon echoes RTA's appreciation of the role of in the youth in shaping the future, as they have a rich imagination and intellectual skills enabling them to come up with the best ideas to beat potential public transport challenges. The third edition witnessed significant intellectual competition resulting in solutions capable of leveraging this field.