Nov 19 2019
Opening Mother & Child Corner
(The facility supports working mothers with children experiencing emergency cases)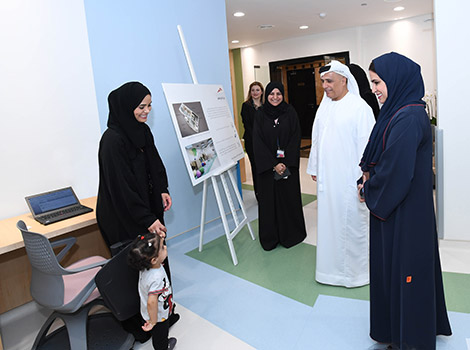 HE Mattar Al Tayer, Director-General and Chairman of the Board of Executive Directors of Roads and Transport Authority (RTA) has opened Mother & Child Corner coinciding with the Universal Children's Day (20 November 2019). The initiative contributes to the corporate resiliency and empowerment of working women through nurturing an exceptional working environment for them to do perfect jobs.

"Establishing Mother & Child Centre is a big boost to fostering a working environment that caters to the requirements of both the job and motherhood, besides addressing the psychological concerns of working moms," said Ms. Moaza Al Marri, Executive Director, Office of the Director-General and Chairman of the Board of Executive Directors, Chairperson of Women Committee, RTA.

"The new facility has a different role from 'My Child's Nursery'. It is focused on external emergency conditions experienced by children of working mothers, which might have a direct impact on their mothers' performance due to mental distraction. As such, the establishment of this facility within RTA's Head Office enables our female employees to be close to their children while working till the emergency condition is over," explained Al Marri.

"The Mother & Child Corner is a pioneering initiative across government entities to support working women. Corners are designed to the top international standards encompassing office logistics and integrated working tools, besides edutainment means befitting children ranging from infants to 10 years. Registration procedures for the facility are so simple thanks to the use of edge-cutting technologies.

"All RTA's initiatives are driven by humanitarian, civilized and ethical principles. These values are aligned with the vision of our leaders and directives of RTA's Director-General, who lends generous support to female employees considering them true drivers of growth and prosperity," concluded Al Marri.