21 Oct 2021
Offering free data bundles to S'hail App users at GITEX in collaboration with Etisalat and du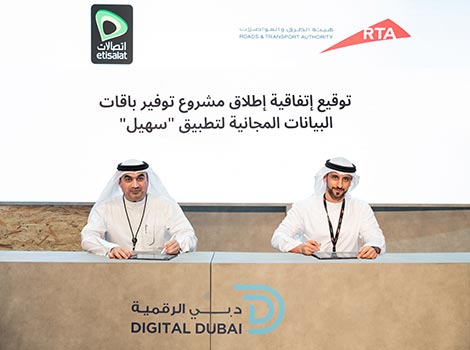 As part of its keenness to keep pace with the latest technologies and global trends, and bring more happiness to clients, Dubai's Roads and Transport Authority (RTA) is running an initiative to raise the satisfaction of the users of electronic and smart services.
In this regard, RTA signed two agreements with Etisalat and du respectively, at the sidelines of its participation at GITEX Technology Week (17-21 October 2021). The agreements provide for free data bundles from the two telecom providers to the users of RTA's S'hail App in future.
Mohammed Al Mudharreb, CEO of Corporate Technology Support Services Sector signed the agreements on behalf of RTA. His Excellency Abdullah Al Ahmed – Senior Vice President - Government Sales signed on behalf of Etisalat, and Ahmed Aburahima - Senior Vice President Government Relations signed on behalf of du.
"RTA is always keen to respond to the government drive to make Dubai the smartest city in the world and bring more happiness to clients who are the bedrock of our operations. Accordingly, S'hail App users can use the app offline, which enables users to plan their journeys, top-up nol cards and other services on offer to public transport riders in a smooth and secure manner. It is noteworthy that RTA had recently added a host of new services and features to S'hail App, which has been designed to be innovative and user-friendly to ease the mobility of public transport riders intending to visit Expo Dubai 2020," explained Al Mudharreb.
"Offering free data bundles to S'hail users is an important step in support of the UAE's government drive and the UAE Vision 2030 to make modern telecommunication technologies and services available to all. The service shall be subject to a constant and precise review before considering widening its scope in collaboration with the service providers in the UAE. We would wish to commend the services of Etisalat and du and the great reputation enjoyed by both entities across the UAE community," he concluded.