12 Feb 2019
MoU with Skyway Greentech to develop Sky Pod Network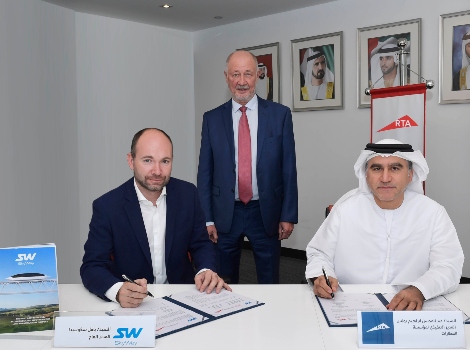 Dubai's Roads and Transport Authority (RTA) has signed a Memorandum of Understanding (MoU) with Skyway Greentech Company; one of the pioneering developers of Sky Pod worldwide. The signing of the MoU is part of RTA efforts to come up with futuristic solutions to beat traffic congestion through the development of Sky Pods using Sky Pod technology. The technology is characterised by speed and security as well as saving of resources, thus contributes to RTA's vision & strategy of ensuring safe and smooth transport for all. Dubai Autonomous Transportation Strategy aimed at converting 25% of total journeys in Dubai into autonomous journeys on various transit means by 2030. It is also part of RTA's efforts to enhance the integration of public transit means.

Abdul Mohsen Ibrahim Younes, CEO of Rail Agency signed the MoU on behalf of the RTA, and Pavel Skoypeda, General Manager of Skyway Greentech Company, signed on behalf of the Company, at RTA's Head Office.

"We have signed this MoU in the context of RTA's efforts to envision the future and deliver top-notch technology & services at world-class standards. It will pave the way for innovative mass transport and accordingly raise the ridership of public transit means; which in turn will ease the traffic congestion and enrich the lifestyle in the Emirate," said Younes.

"The step stems from RTA's commitment to realise the National Agenda and increase the use of clean technology in the field of transport to ensure sustainability. It encourages citizens and residents of Dubai to use shared and mass transport through the development of sophisticated futuristic transit means, besides improving the sustainable transport network and systems in Dubai.

The signing of the MoU is part of RTA's dedicated efforts aligned with the National Agenda aimed to achieving a sustainable environment characterised by air-quality and the reliance on clean energy. Thus, it contributes to rendering Dubai the preferred venue for living & business and a favourite destination for visitors, and achieving Dubai Smart City Strategy.