28 Jun 2022
MoU with Emirates Inventors Association to support innovative initiatives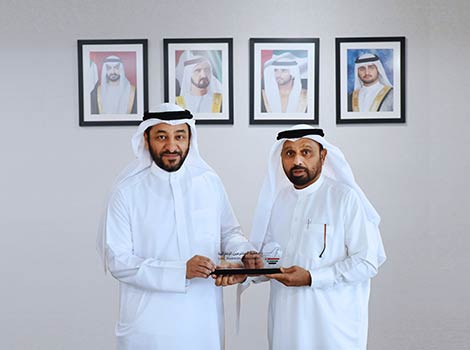 Dubai's Roads and Transport Authority (RTA) has signed a Memorandum of Understanding (MoU) with the Emirates Inventors Association to boost bilateral relations. The MoU provides for sharing experience in all aspects of innovation as well as research and development programmes to meet the needs of the community at large.
Nasser Abu Shehab, CEO, Strategy and Corporate Governance Sector, RTA, and Ahmed Abdullah Majan, Chairman of the Emirates Inventors Association, signed the MoU on behalf of the respective parties.
"Through the MoU, RTA seeks to support the Emirates Inventors Association ideas and initiatives by adopting systems that enhance innovation and encourage RTA employees to become members of the Association. It also offers guidance, resources, services, and advice needed by Emirati talents and inventors to develop new solutions to various challenges of innovation," said Abu Shehab.
"Besides improving employee skills and exploring new growth opportunities, the MoU enables both parties to collaborate with the competent entities to achieve leadership in innovation, and research and development to anticipate future developments. RTA has strategic goals and objectives geared toward attracting, developing, and retaining talent as well as matching them with the required skills. It is always keen to implement corporate values associated with leadership, competitiveness, creativity, and innovation," he added.
"The Association will provide technical support for RTA employees' innovation ideas within the scope of their respective jobs. It will also promote the exchange of knowledge and research among experts in various areas of invention through participation in events, workshops, and practical research. It will also encourage the adoption of innovative programmes designed to qualify the youth to accomplish their inventions and register their patency with the concerned parties. RTA will also be able to engage in related activities, such as brainstorming sessions on innovation topics and have access to resources and training. The Association will also provide technical, administrative and legal support about innovation received from RTA," said Majan.