16 Feb 2022
Inaugurating the digital library with 150k titles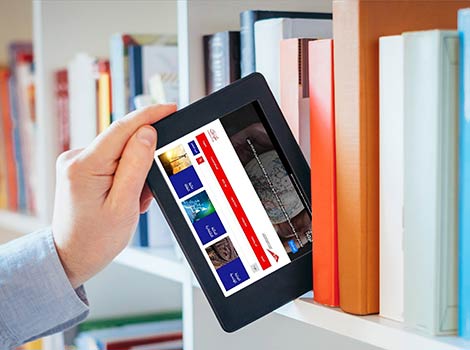 Dubai's Roads and Transport Authority (RTA), has launched its Employees Digital Library in collaboration with the Mohammed bin Rashid Al Maktoum Knowledge Foundation. It is the first digital library of its kind with cognitive content in the field of transport infrastructure worldwide. The Mohammed bin Rashid Al Maktoum Knowledge Foundation oversaw the selection of the content and charted out a business plan to supplement the content with reports, manuals and publications released by RTA as well as international and regional entities specialised in roads and public transport.
"RTA is the first government authority in the United Arab Emirates to launch a specialised digital library to serve the infrastructure of roads and transport, one of the key sectors in the UAE. RTA also intends to make this digital library unique and outstanding locally and overseas. The library has 6 sections specialising in engineering, artificial intelligence, energy, space and economics. Currently, it includes more than 150,000 titles," said Issa Al Amiri, Director of Administrative Services, Corporate Administrative Support Services Sector, RTA.
"The main objective of launching RTA Employees Digital Library is to create an integrated knowledge base that benefits transport professionals, besides enriching the cognitive abilities of employees through an excellent content of the library that includes electronic and multimedia materials, studies and research, newspapers and magazines. The objective of providing such materials is to enable documentation of the history and uses of transportation means as well as the evolution of roads through different eras," he added.
Enhance cognitive capabilities of employees
RTA launched initiatives to enrich the culture of employees, their families and transportation riders such as the launch of the new edition of "Read with RTA" app coupled with the offering of two million nol Plus points to public transport riders during the Month of Reading. It also launched an array of initiatives aimed to broaden the culture of employees and their families as well as public transport commuters.
In 2020, RTA unleashed a "Remote Knowledge-sharing programme", which enabled employees on remote work mode to take part in the exchange of knowledge, which included several initiatives such as self-development, e-knowledge chat, introduction to universal languages, and general knowledge about RTA. Among the key objectives of the programme was to invest the free time of remote workers in gaining knowledge and skills, encourage them to read, educate them about some global languages, and review various knowledge disciplines including RTA's reports and achievements.