May 16 2019
Hosting consumer protection seminar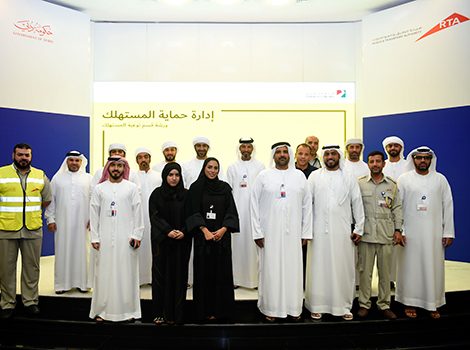 Dubai's Roads and Transport Authority (RTA) recently hosted an awareness-raising seminar focused on consumer protection. The Department of Economic Development (DED) in Dubai ran the event. The seminar mainly focused on RTA field inspectors.

"Hosting this consumer protection seminar is indicative of the growing partnership between RTA and (DED). The event targeted inspectors as they are directly engaged with residents, and we opted to educate them such that they can be in a better position to educate consumers about their rights," said Mohammed Nabhan, Director of Passengers Transport Activities Monitoring.

"Protecting consumer rights has become a corporate responsibility shouldered by government and semi-government entities. RTA had previously hosted a similar workshop to raise the awareness of public bus drivers. More workshops will be held in future to promote the consumer awareness of various segments of RTA employees," he added.

Nabhan thanked the (DED) for their efforts in elevating the profile of Dubai as reputed global business hub and making a substantial contribution to protecting consumer rights.

"We thank RTA for hosting our team in this induction seminar and enabling them to reach wider community segments. We also thank the team of RTA's Passengers Transport Activities Monitoring Department for their fruitful cooperation with the (DED) and facilitating arrangements that made this workshop a success," said Ahmad Al Zaabi, Director of Consumer Protection Department, Commercial Compliance and Consumer Protection Sector at the (DED).

"RTA's inspectors are important community segment in view of their direct and continuous contact with the public, and we ought to enlighten them about consumer protection. We believe that all RTA employees can play a leading role in educating consumers about their rights and inform them of the contact details of Consumer Protection division. Such efforts will promote transparency and fairness amongst the business community and consumer," he added.