16 Mar 2023
4 Global sustainability and leadership awards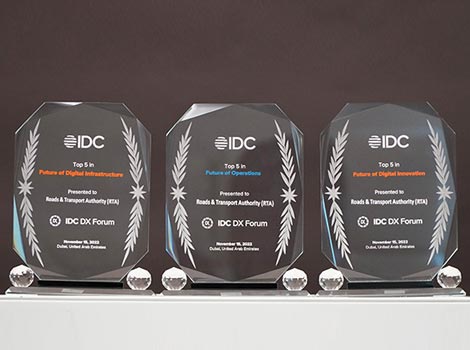 Dubai's Roads and Transport Authority (RTA) has been named a winner at the World Sustainability Leadership Awards, under the Sustainable Business of the Year Category. RTA received this award in recognition of its online car rental system, which oversees vehicle rental activity by utilising electronic lease contracts and an integrated database. This system regulates the interactions between over 1,500 dealers and leasing companies. In 2022 alone, the system facilitated the issuance of more than 900,000 contracts.
RTA has also received three other international accolades in recognition of its achievements and pioneering efforts in developing the Transportation Activities Rental System (TARS). RTA has been honoured with three awards across three categories, each of which represents an accomplishment on the path to TARS. The three categories are The Future of Digital Innovation, The Future of Digital Infrastructure, and The Future of Operations. The awards were presented by the International Data Group's (IDG) Future Enterprise Awards, an esteemed institution founded in 1964.
These accolades are a tribute to RTA's accomplishments in innovation and commitment to providing exceptional government services in logistics transport, leasing, and the Transportation Activities Rental System (TARS) app developed in September 2021.
The Transportation Activities Rental System (TARS) improves the standards of governance in the car rental business, facilitates the monitoring of operational processes, and raises the efficiency of inspection and control operations by automating tasks, which saves the time and effort of RTA's inspectors. Additionally, it connects RTA's system with those of other respective government entities to integrate data. It is in line with RTA's strategy and other government initiatives such as paperless transactions and digital technologies like blockchain. This integration also offers supplementary services to the car rental sector. The objective of this system is to create an integrated and adaptable regulatory framework for overseeing all types of vehicle rental businesses and streamlining the relationship between rental companies and customers.