13 Dec 2021
Fireworks extravaganza awaits marine riders on 2022 New Year's Eve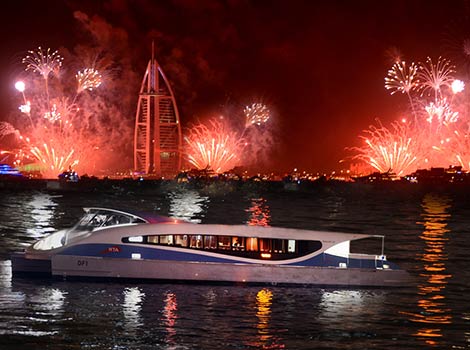 Dubai's Roads and Transport Authority (RTA) has unveiled special offers and premium services for spectacular firework show on the eve of the New Year 2022 (Friday 31st December) aboard marine transit modes (Dubai Ferry, Waterbus and the Abra). The event underlines RTA's efforts to entertain various residents, and tourists visiting Dubai from all over the world to celebrate this annual event.
Mohammed Abu Baker AlHashemi, Director of Marine Transport, Public Transport Agency, Roads and Transport Authority, credited this service to RTA's continuous efforts to engage customers and offer them a superb opportunity to savour a exciting experience aboard various marine transit modes (Dubai Ferry, Water Bus and Abra). "The charming moments of watching stunning firecrackers at the famed Burj Khalifa and Dubai Festival City as well as the spectacular Burj Al Arab, Atlantis, Bluewaters, and the Jumeirah Beach Towers dotting the Dubai Waterfront is bound to bring unforgettable memories to marine transit riders including residents, visitors and tourists," he noted.
"Individuals interested in enjoying this service can call RTA's dial-free number (8009090) or send an e-mail to (wtbook@rta.ae) to learn more about the Water Bus, Dubai Ferry and Abra journeys. Dubai Ferry will start cruising from 10:00 pm on New Year's Eve and the journey will continue up to 01:30 am (of the following day). The Water Bus and the Abra journeys will start at 10:30 pm and end at 01:30 am (of the following day). The Abra journey will commence from the Marina Mall station (Dubai Marina) at a fare of AED 125 for adults, children under 2 for free," continued Al Hashemi.
"Dubai Ferry journeys will start from the Marina Mall Station (Dubai Marina), Al Ghubaiba Station and Al Seef Station (Dubai Creek). The fare is AED300 for the silver class and AED450 for the gold class, with a 50% discount for children aged 2 to 10, and free for infants (less than two). Abra journeys will start from Al Jadaf Station, Dubai Festival City Station and Al Ghubaiba Marine Station at a fare of AED125 for adults, and free for children under 2," explained the Director of Marine Transport, Public Transport Agency.
"RTA would wish to avail this opportunity to share the joyful moments with jubilant celebrators of the New Year. Dubai will be turned out in festive gear, especially in places like the iconic Burj Khalifa; the tallest building on the planet. The event promotes RTA's excellent marine transit services on the day, and its efforts to bring happiness to customers, especially marine transport riders," he further added.
"The Dubai Ferry, Water Bus and Abras have special appeal to Dubai's residents, visitors and tourists, thanks to the picturesque coastal line of the city, which boasts of an array of fabulous tourist attractions such as the World Islands, Nakheel Islands, Dubai Water Canal, heritage destinations and deluxe hotels. The launch of this premium service will add fresh momentum to the marine transit modes during the event," concluded Mohammed Abu Baker Al-Hashemi, Director of RTA's Marine Transport.