18 Jul 2022
Dubai Taxi annual gathering honours strategic partners 2021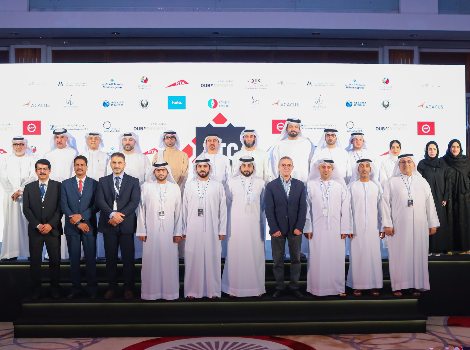 In a gesture of recognition and appreciation, RTA's Dubai Taxi Corporation (DTC) held its annual gathering that brought together a wide array of strategic partners and sponsors from public and private entities. Staging the event, which was held at the Godolphin's Ballroom, Emirates Towers Hotel culminates the successful synergy between the two parties. It is also a tribute to the efforts, cooperation and effective contribution of these entities to the long and successful drive of the DTC.

Among the notable attendees of the gathering were Abdul Mohsen Ibrahim Kalbat, CEO of Rail Agency and Chairman of DTC Supervisory Board, and Mansour Rahma Al Falasi, CEO of Dubai Taxi Corporation in addition to several leaders and representatives of service-providing entities.

The list of strategic partners in 2021 honoured included Al-Futtaim Motors, Dubai Airports, Arabian Automobiles, Juma Al Majid Group, Emirates Schools Establishment, DP World, ENOC, Qatar Insurance and the Global Village.

DTC also honoured the winners of the Best Supplier Award introduced to consolidate DTC's tradition of excellence. Honourees included Al-Futtaim Motors, Acacus Group, Qatar Insurance, Al Zarooni International Equipment, Privilege Labour Recruitment, Secure World, Inter-Tech Systems, Swaidan Trading, and Technoloop Company.

Al Falasi hailed attendees for their partnership and support of DTC and commended their contribution to realising its objectives, strategies and vision: (Pioneers in Safe and Sustainable Digital Transport Services). He stressed that such efforts contributed to sustaining the successful results achieved, which reflected positively on the performance of DTC and merited it to win seven local, regional and global awards.

"Dubai Taxi Corporation keeps in high regard its partners whose support has been one of the key success factors that have had an immense contribution to accomplishing DTC's strategic objectives. Moreover, adopting the Collaborative Business Relationship Management Systems that meet ISO 44001:2017 standard has also improved our corporate performance and ensured the optimal utilisation of resources," said Al Falasi.

"The remarkable attendance at this event illustrates the close communication between DTC and its partners. Forging strong links has been one of the key pillars of DTC's strategies from the inception. This event celebrates the contributions of distinguished partners from various entities and showcases their role in supporting DTC projects. As such, with the sustained cooperation with its partners, DTC now tops the market share of the Dubai transport sector with a fleet of more than 6000 vehicles," concluded Al Falasi.