31 Jan 2023
Dubai Roads' Pavements Condition Index hits 95% in 2022
(A total of 48 highways and 34 internal roads in residential areas were maintained)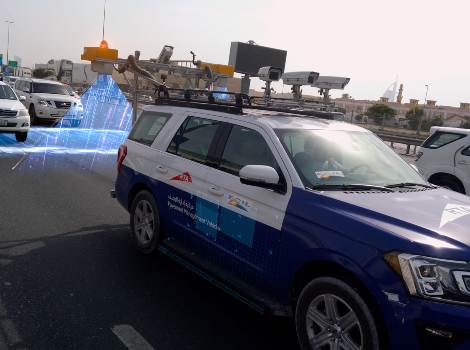 Dubai's Roads and Transport Authority (RTA) revealed that Dubai's Roads Pavements Condition Index scored 95% in 2022, according to the results of a functional and structural assessment conducted by RTA's Traffic & Roads Agency. The assessment is designed to identify surface damage such as cracks, subsidence, potholes and loosening in the sidewalk surface using the Pavements Condition Index and the level of driving comfort or roughness of the roads. Hi-tech laser equipment is used to detect the condition of the roads.
Hamad Al Shehhi, Director of Roads and Facilities Maintenance, Traffic & Roads Agency, RTA, said: "The purpose of the pavements condition assessment is to evaluate the structural capacity of road pavement layers as well as their extent of deterioration. Using specialised equipment and digital systems, the structural coefficients of the pavement layers are calculated, as well as the remaining lifecycle of the pavement. Following pavements maintenance work, 48 highways, main roads, and 34 internal roads in residential areas were assessed.
"Approximately 60 km of tracks in urgent need of maintenance have been maintained for the entire network of main roads and residential areas, ensuring that 95% of the network is maintained in excellent condition. Among the main roads that have been maintained are: Lehbab Road, Emirates Road, Sheikh Mohammed Bin Zayed Road, Sheikh Zayed Road, Al Khail Road, Dubai - Al Ain Road, and Al Amardi Street," added Al Shehhi.
Bridges and Tunnels Construction Condition Index clocks 97%

"The bridges and tunnels Pavements Condition Index was determined by detailed technical inspections conducted according to international standards. Visual inspections were conducted using digital panels, and the structural elements of each facility were also assessed separately, whereby results were entered into a system for managing bridges and tunnels' maintenance. As well as setting business priorities for annual maintenance plans, the Pavement Management System automatically calculates the Pavement Condition Index, which in 2022 reached 97% for bridges and tunnels," explained Al Shehhi.
Results

"Traffic movement and safety have been impacted in light of the maintenance works, as roads are maintained in sound working order, ensuring the safety of road users. A good 95% of the network was maintained in good condition with smooth traffic, with lane closures taking place only for safe alternatives accompanied by all necessary traffic controls to ensure all road users' safety," commented Al Shehhi.
"These results are the outcome of the Pavement Management System, which is considered as digital copy of roads with the application of artificial intelligence technologies, and underscore the implementation of RTA's strategies and policies. As well, it can help determine the most cost-effective preventive maintenance within the budget allocated to maintaining the road network and optimise the selection of maintenance," concluded Al Shehhi.