19 Apr 2022
Customers Council ponders service improvements with Customers Happiness Centres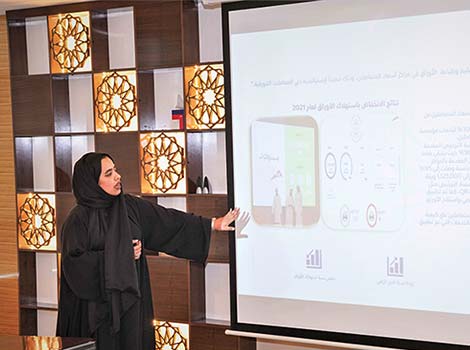 The Customers Happiness Council of Dubai's Roads and Transport Authority (RTA) reiterated RTA's commitment to boosting customers' satisfaction and happiness with RTA services and its vital roles at all levels. A statement to this effect was made during the 128th Customers Council gathering held recently with employees and supervisors of RTA's customers' happiness centres.
Mohammed Obaid Al Mulla, Chairman of the Customers Council opened the discussion panel by expressing thanks and appreciation to the Chairperson and Members of the Council for Happiness and Wellbeing for their sustained efforts and support to improve customers' services. He also praised the efforts of the supervisors and staff of RTA's customers' happiness centres.
"RTA's senior leadership attaches paramount attention to the front-end employees of these centres and is keen to continue to support these centres to deliver excellent services. Such efforts will reflect positively on RTA's happiness index and are instrumental in realising the Strategic Goal: People Happiness," said Al Mulla.
The Council recommended the Customers Happiness Department and other concerned departments train employees in customers happiness centres on using artificial intelligence and envision smart future solutions when faced with challenges in delivering services at all points. It urged them to train staff on e-services and smart apps to assist customers with the use of such apps and services. Such a step will pave the way for the smart transformation of most services delivered at customers' happiness centres.
The Council also recommended the Customers Happiness Department cooperate with the Human Resources and Development Department and the Administrative Services Department to engage customers happiness centres in community initiatives run by these two departments. Such initiatives aim to encourage front-line employees to promote the spirit of belonging and the job loyalty of employees at all service points, especially customers' happiness centres.
The Council directed the Customers Happiness Department to coordinate with the Licensing Agency in establishing a link between RTA's systems and the systems of various government departments, such as Dubai Courts, Notary Public, Dubai Police and other concerned government departments closely related to RTA (Licensing Agency services). Interfacing these systems will streamline and expedite the processing of customers transactions, implement governance, and eliminate the manipulation of the content of government records and documents.
During the gathering, a video was shown to explain RTA's vision and mission, locations of customers' happiness centres, performance indicators of these centres, and the happiness index of 2021 and up to now. It also included statistics on the number of services and transactions processed by customers' happiness centres in 2021, and a presentation highlighting the achievements and initiatives of RTA's Customers Happiness Centres in 2021.