Apr 12 2019
Customers Council ponders service improvement with university students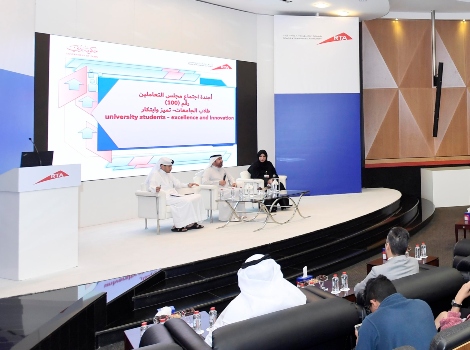 Roads and Transport Authority's (RTA) Customers Council has recently held its 100th session with a group of university students in Dubai in the presence of Mohammed Obaid Al Mulla, RTA's Board Member and Chairman of Customers Council. The session was held in collaboration with RTA's Knowledge & Innovation Department.

Al Mulla opened the meeting by welcoming university students and thanked them for attending the session. "RTA is always keen to engage university students and values their inputs and ideas about its services, especially in relevance to smart services. It also attaches considerable attention to their talents and contributions to shaping the future of mobility in Dubai in particular and the UAE in general. Such efforts contribute to the improvement of services and the realignment of RTA services to better serve customer needs.

The council discussed many suggestions and directed RTA's various sectors and agencies to study the possibility of implementing them, like: holding a series of awareness workshops tailored to university students to encourage them in using various public transit means and taxis as well as other services on offer. In addition to organizing other workshops to enlighten university students about nol cards and the loyalty programme (nol plus), and the possibility of adding embossed letters (like Braille System) on the side of nol cards to figure out the type of card (silver, golden, blue, blue plus).

The council also directed to consider providing welcoming voice messages to taxi riders when boarding or alighting from taxis, and urged to intensify training programmes about the etiquette of dealing with taxi riders.

The council directed to consider providing additional air-conditioned bus shelters at the Academic City due to the scorching heat and humidity during summer. The step will also encourage university students to use public buses, and mass transit means. The council called for opening more bus routes at residential districts of citizens to encourage them to use public transit means.

At the end of the session, students thanked RTA for the invitation to attend and take part in the Council's meetings. They were also appreciative of RTA's care for their views and suggestions; which added to their happiness and portrayed them as an active community segment.

It is noteworthy that the students were introduced to the nol Plus programme during the session; which contains 500 points for use under a package of services offered by RTA. The package includes transferring points to nol balance, buying mobility permits and products from retail outlets, and using the nol card for payment of entry fees of public parks and Etihad Museum.